Silver Prices Retreat in May 2010 Despite Rallying Final Week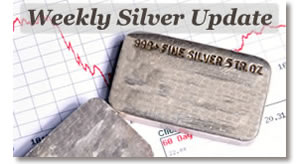 Silver prices soared this week, but nevertheless declined during the month of May after a 6.4% increase in April.
On Friday, New York silver futures for July delivery fell 4.6 cents, or 0.3, to $18.422 an ounce, capping a 1.2% loss in May. For the week, however, the metal soared 77.1 cents, or 4.4%.
The London silver fix on Friday was $18.530 an ounce, rising 17 cents, or 0.9% on the day. It was up 81 cents, or 4.6%, for the week but down 9 cents or 0.5% in May.
GFMS Ltd. Executive Chairman Philip Klapwijk believes economic growth will help drive silver to as high as $20 an ounce this year.
"Silver's demand is a function of the economy, not of the price," Klapwijk was quoted on Bloomberg Thursday. "Industrial demand has come back quite strongly this year from a low level. I would imagine we could continue to see this year very strong investment demand."
"With silver slowly rising back to $18.50, it's still tracking gold, but more erratically than we have seen before," noted Julian D. W. Phillips of GoldForecaster.com on GoldSeek.com. The GFMS report on silver will affect institutional demand, for sure. This was extremely positive for the metal, agreeing with a position we have held for a long, long time. But as with gold, should there be more bad news coming from the Eurozone or any other worrying area, things could change and quickly."
London precious metal weekly prices follow:
London Fix Precious Metal Prices

Gold

Silver

Platinum

Palladium

AM

PM

AM

PM

AM

PM

5/21/2010
1183.50
1179.75
17.72
1494.00
1492.00
416.00
419.00
5/28/2010
1214.00
1207.50
18.53
1569.00
1555.00
469.00
471.00
London Weekly Bullion Prices

Up

Down

% Change

Gain/Loss

Silver
X

4.6%

$0.81

Gold
X

2.4%

$27.75

Platinum
X

4.2%

$63.00

Palladium
X

12.4%

$52.00
For daily prices, check out the silver spot price page.