Silver Prices Retreat in July 2010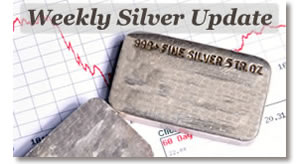 U.S. silver marked a third straight day of gains Friday, but it still declined this week which set prices lower for July.
On Friday, silver for September delivery advanced 38.6 cents, or 2.2%, to settle at $18.003 an ounce on the Comex in New York. The metal fell 9.8 cents, or 0.5%, this week. It dropped 70 cents, or 3.8%, in July.
"In the month of July, silver prices witnessed a consolidation phase as the industrial demand for silver remains weak and thus the price has also failed to deliver on high hopes; the price has rather followed the yellow metal's southwards movement," CommodityOnline opines. "In the near future, silver prices are not looking as weak as the gold prices are, and could revert back after facing a healthy correction."
As mentioned, silver tracked gold for most of July and resultantly this week. The current gold to silver ratio is 65.76, which compares to last Friday's ratio of 65.62.
The London silver fix ended at $17.660 an ounce, down from the highest level of $18.160 set on Tuesday, but better than the week's lowest point of $17.600 on Thursday.
In silver coins news, bullion American Silver Eagle sales are not published as final, but it appears they will end at 2,981,000 for the month. If so, July will fall 20,000 short of matching June's level. The United States Mint should officially close this month's figures on Monday. Year to date sales currently stand at 21,149,500.
Precious metal weekly prices follow from New York and London follow:
New York Futures Precious Metal Prices

August
Gold

September

Silver

October
Platinum

September
Palladium

7/23/2010
1187.80
18.101
1542.80
466.75
7/30/2010
1183.90
18.003
1576.80
500.00
New York Futures Weekly Changes

Up

Down

% Change

Gain/Loss

Silver
X

-0.5%

-$0.098

Gold
X

-0.33%

-$3.90

Platinum
X

2.2%

$34.00

Palladium
X

7.1%

$33.25
London Fix Precious Metal Prices

Gold

Silver

Platinum

Palladium

AM

PM

AM

PM

AM

PM

7/23/2010
1198.75
1190.50
18.170
1545.00
1541.00
462.00
460.00
7/30/2010
1168.00
1169.00
17.660
1555.00
1555.00
491.00
487.00
London Weekly Bullion Changes

Up

Down

% Change

Gain/Loss

Silver
X

-2.8%

-$0.51

Gold
X

-1.8%

-$21.50

Platinum
X

0.9%

$14.00

Palladium
X

5.9%

$27.00