Silver Prices Retreat from Year Highs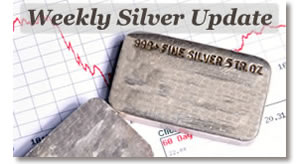 Silver prices in both New York and London retreated from last week's highs with both markets settling at weekly losses of more than 1.5 percent.
New York silver futures for December delivery closed Friday at $17.42 an ounce, declining 27 cents, or 1.5 percent, from last Friday's close of $17.69.
London silver was set to $17.31 an ounce, marking a weekly loss of 32 cents, or 1.8 percent. However, the metal is still up a remarkable $6.52, or 60.4 percent, from the Dec. 31 fixed price of $10.79 an ounce.
"Despite our reservations in the short term, we are very bullish on silver longer term," Sean Rakhimov from http://SilverStrategies.com said. "More importantly, we believe that the next big move up in silver is about to begin. Not tomorrow, not next week, but in the medium term."
London precious metal weekly prices follow:
London Fix Precious Metal Prices

Gold

Silver

Platinum

Palladium

AM

PM

AM

PM

AM

PM

10/9/2009
1046.75
1051.50
17.63
1335.00
1337.00
323.00
323.00
10/6/2009
1047.75
1047.50
17.31
1341.00
1340.00
325.00
327.00
Dollar and Percent Price Changes

Up

Down

% Change

$ Change

Silver
X

-1.8%

-$0.32

Gold
X

-0.4%

-$4.00

Platinum
X

0.2%

$3.00

Palladium
X

1.2%

$4.00
These articles offer precious metals and silver coin news:
For daily silver news and prices, visit Silver Prices.