US Silver Coins Slide in Sales, Braille Education Set Debuts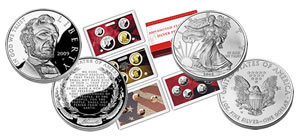 Demand mostly declined last week for silver coins, the most recent US Mint sales figures reveal. In fact, two product options were adjusted downward by the Mint, in affect showing a negative weekly increase. Bullion Silver Eagles, however, had a solid jump.
Perhaps most surprisingly, the US Mint Braille Education Set performed rather modestly during its first few days on the market. Between their release on Thursday, Oct. 8, through to Sunday, a total of 2,719 were sold. The Mint's Braille Easy-Open Capsule product, which also includes an uncirculated Braille $1 coin like the education set, actually declined by 109.
The 18-coin 2009 Silver Proof Set was the biggest declared winner in the last report. It jumped 14,352 then. Apparently the jump was too high, as the US Mint also adjusted its figures lower by 1,001. The new total is 520,059.
The single US Mint silver collector coin product to shine, as we speculated last week, was the 2008 Annual Uncirculated Dollar Coin Set. While typical weekly gains have been between 600-900, sales in this round increased by 2,180. The set includes a 2008-W uncirculated American Silver Eagle coin, which is the only way to purchase one of the uncirculated dollars now that the US Mint cancelled 2009 collector Silver Eagles.
Bullion 2009 Silver Eagles were another story. Their numbers jumped 610,000 since last week to reach 21,359,500 for the year.
The following two tables have the latest US Mint stats for collector silver coins and sets and bullion silver eagles.
U.S. Mint Collector Silver Coin Sales
(Sales compare previous to current Mint figures)
Previous Sales

New Sales

Unit Increase

% Increase

Mintage Limit

2009 Lincoln Silver Proof*
325,000
325,000
0
0.00%

500,000

2009 Lincoln Silver Uncirculated*
125,000
125,000
0
0.00%
2009 Braille Silver Proof
123,556
123,899
343
0.28%
400,000
2009 Braille Silver Uncirculated
45,592
45,627
35
0.08%
Braille Uncirculated in Easy-Open Capsule
20,648
20,539
-109
-0.53%
Braille Education Set
2,719
–
–
2009 US Mint Silver Proof Set
521,060
520,059
-1,001
-0.19%
none
2009 Quarters Silver Proof Set
242,773
243,714
941
0.39%
none
2008 Annual Uncirculated Dollar Coin Set
78,908
81,088
2,180
2.76%

none

2008 American Eagle Silver Dollar Proof*

713,353

713,353

0

0.00%

none

2008 American Eagle Silver Dollar Uncirculated*

444,558

444,558

0

0.00%

none
*Coin products with an asterisk are no longer available. Prior year products are listed until replaced by the new year offering. Sunday, Oct. 11, is the "as of date" for the US Mint collector coin sales figures shown above.
2009 Silver Eagle Bullion Coin Sales in October
| | | | |
| --- | --- | --- | --- |
| Oct 7 | Oct 14 | Oct 21 | Oct 28 |
| 282,000 | 892,000 | – | – |
The US Mint has sold 21,359,500 Silver Eagles this year.
In the notable news that is sure to solicit collectors' buying power, the Mint has added the 2009 Lincoln Coin and Chronicles Set to its store front. The 50,000 limited edition set is sure to spark sales when launched on Oct. 15, 2009. Most expect a rapid sell out. The Lincoln Silver proof coin, which is included in the chronicles set, sold out earlier in the year with 325,000 snapped up in about 44 days.
The previous reported sales figures are located at US Mint Silver Coin Sales: 2009 Silver Proof Sets Jump. The Silver Coins Today tool page Mint Silver Coins Sales has been updated with the latest Mint numbers.