Braille Silver Dollar Sales Near 41,000 in First Week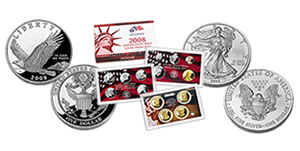 Silver coin sales climbed over the last several days, helped by the Braille Silver Dollars and the 2009 Quarters Silver Proof Set releases.
A total of 40,844 Braille coins and 55,160 quarter proof sets were sold, according to the latest US Mint sales stats.
In other silver coin news, Lincoln Silver Dollars sold out. While the proof version is still listed in the Mint online store, there is a statement saying any new orders will only be processed when an old one is cancelled.
Interestingly, Lincoln silver coins now have a total sales figure of 465,614. Only 500,000 are allowed with 50,000 supposedly reserved for a special 5-coin proof set. The numbers are obviously not adding up with 15,614 extra coins sold. It would appear the Mint expects that many cancellations/returns or that fewer special sets will be minted.
Sales of the 50 State Quarters Silver Proof Set ended Monday, March 30. The final figures look to be standing at 429,021.
Here are the latest numbers:
U.S. Mint Silver Coin Sales Stats
(March, Week 4 to April, Week1)
Previous Sales

New Sales

Unit Increase

% Increase

Mintage Limit

2008 American Eagle Silver Dollar Proof*

713,353

713,353

0

0.00%

none

2008 American Eagle Silver Dollar Uncirculated*

444,558

444,558

0

0.00%

none

2009 Lincoln Silver Proof
312,075
329,821
17,746
5.69%

500,000

2009 Lincoln Silver Uncirculated*
135,793
135,793
0
0.00%
2009 Braille Silver Proof
–
28,880
28,880
–
400,000
2009 Braille Silver Uncirculated
–
11,964
11,964
–
2009 Quarters Silver Proof Set
–
55,160
55,160
–
2008 Annual Uncirculated Dollar Coin Set
56,801
57,805
1,004
1.77%

none

2008 U.S. Mint Silver Proof Set
734,108
738,254
4,146
0.56%

none

2008 50 State Quarters Silver Proof Set*
429,021
429,021
0
0.00%

none
* Coin products with an asterisk have been sold out or are no longer available.
The previous reported sales figures are located at US Mint Silver Coin Sales Drop – Mar 26. As a reminder, the collector 2009 silver eagle suspension is still in affect.
The Silver Coins Today tool page Mint Prices & Sales Figures has been updated with the latest Mint sales figures.
Visit the CoinNews collector tool page Mint Price Guide for tables of common gold and platinum coin stats. Additionally, NumisMaster has a breakdown of the latest sales figures for most Mint coins here.