US Mint Silver Coin Sales Drop – Mar 26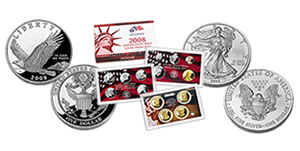 Fewer collectors have been buying United States Mint silver coins and sets lately, according to the latest Mint sales stats.
However, part of the drop off is almost certainly due to interest in newly released coins and sets, including the launch of the Braille Silver Dollars Thursday and the 2009 Quarters Silver Proof Set on Monday. (Sales figures for these coins should begin appearing next week.)
In other silver coin news, the 2009 Lincoln Commemorative Silver Dollars are nearly gone. The uncirculated version sold out Tuesday and the proof coin probably has a matter of a few hours to a few days — with a lean toward hours. A total of 447,868 Lincoln $1s are now sold, leaving 2,132 proofs left to the buying public.
50 State Quarters Silver Proof Set sales ended Monday when the US Mint replaced them with the 2009 silver quarters. The final sales figures for these should be available next week.
Here are the latest numbers:
U.S. Mint Silver Coin Sales Stats
(March: Week 3 to Week 4)
Previous Sales

New Sales

Unit Increase

% Increase

Mintage Limit

2008 American Eagle Silver Dollar Proof*

713,353

713,353

0

0.00%

none

2008 American Eagle Silver Dollar Uncirculated*

444,558

444,558

0

0.00%

none

2009 Lincoln Silver Proof
296,488
312,075
15,587
5.26%

500,000

2009 Lincoln Silver Uncirculated
126,963
135,793
8,830
6.95%
2008 Annual Uncirculated Dollar Coin Set
55,914
56,801
887
1.59%

none

2008 U.S. Mint Silver Proof Set
731,405
734,108
2,703
0.37%

none

2008 50 State Quarters Silver Proof Set
427,511
429,021
1,510
0.35%

none
* The 2008-dated coin products with an asterisk have been sold out or are no longer available.
The previous reported sales figures are located at US Mint Silver Coin Sales Stats – Mar 19. As a reminder, the collector 2009 silver eagle suspension is still in affect.
The Silver Coins Today tool page Silver Coin Mint Prices & Sales Figures has been updated with the latest Mint sales figures.
Visit the CoinNews collector tool page Mint Price Guide for tables of common gold and platinum coin stats. Additionally, NumisMaster has a breakdown of the latest sales figures for most Mint coins here.