Lincoln Silver Dollar Coin Sales Pop in US Mint Sales Stats – Feb 19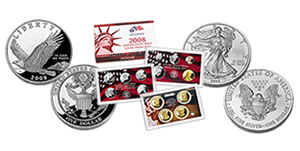 2009 Lincoln Silver Dollar Coins launched Thursday, Feb. 12, and coin collectors purchased the silver commemoratives in droves.
The newest US Mint sales figures show an impressive 116,558 of the proofs and 61,164 of the uncirculated coins have been sold. (For product and purchase details, follow Lincoln Commemorative Silver Coins.)
In contrast, US Mint 2008-dated silver stats were less impressive. The Annual Uncirculated Dollar Coin Set performance improved, with 1,506 sold for an increase of 3.07 percent compared to the prior 2.53% climb. But sales of Mint Silver Proof Sets and 50 State Quarter Silver Proof Sets declined to 0.72 percent and 0.32 percent, respectively, following the last reported 1.07 percent and 0.55 percent rise.
US Mint silver coin sales follow:
U.S. Mint Silver Coin Sales Stats
(Feb. Week 2 to Week 3)
Previous Sales

New Sales

Unit Increase

% Increase

Mintage Limit

American Eagle Silver Dollar Proof*

713,353

713,353

0

0.00%

none

American Eagle Silver Dollar Uncirculated*

444,558

444,558

0

0.00%

none

2009 Lincoln Silver Proof

–

116,558

–

–

500,000

2009 Lincoln Silver Uncirculated

–

61,164

–

–

Annual Uncirculated Dollar Coin Set

49,100

50,606

1,506

3.07%

none

U.S. Mint Silver Proof Set

709,513

714,615

5,102

0.72%

none

50 State Quarters Silver Proof Set

421,011

422,340

1,329

0.32%

none
* The 2008-dated coin products with an asterisk have been sold out or are no longer available.
For more information regarding each of the above coins, to include their prices and U.S. Mint product page links, view the Silver Coins Today page US Silver Coins.
The previous reported sales figures are located at US Mint Silver Coin Sales Stats – Feb 12.
Visit the CoinNews collector tool page Mint Coin Price Guide for tables of common gold and platinum coin stats. Additionally, Numismatic News has a breakdown of the latest sales figures for most Mint coins at Good start for Lincoln commemorative $1.