Lincoln Silver Dollars Surge in Mint Sales Stats – Feb 26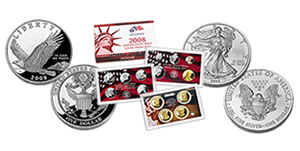 2009 Lincoln Silver Dollars continue to make a splash in the United States Mint sales stats. Their blistering pace eclipses other commemorative silver coins.
Compared to the last reported stats, Lincoln Silver Dollar proof and uncirculated coins surged 37 percent and 23.6 percent, respectively. (For product and purchase details, follow Lincoln Silver Coins.)
In contrast, sales of Annual Uncirculated Dollar Coin Sets and Mint Silver Proof Sets declined — perhaps due to the popularity of the Lincoln's.
Unusual this week is the lack of any movement with the 50 State Quarter Silver Proof Sets. The Mint still offers the 5-coin set for $25.95. It seems unlikely that zero sold given 1,329 were in the last report.
US Mint silver coin sales follow:
U.S. Mint Silver Coin Sales Stats
(Feb. Week 3 to Week 4)
Previous Sales

New Sales

Unit Increase

% Increase

Mintage Limit

2008 American Eagle Silver Dollar Proof*

713,353

713,353

0

0.00%

none

2008 American Eagle Silver Dollar Uncirculated*

444,558

444,558

0

0.00%

none

2009 Lincoln Silver Proof

116,558

159,635

43,077

36.96%

500,000

2009 Lincoln Silver Uncirculated

61,164

75,614

14,450

23.63%

2008 Annual Uncirculated Dollar Coin Set

50,606

51,979

1,373

2.71%

none

2008 U.S. Mint Silver Proof Set

714,615

718,224

3,609

0.51%

none

2008 50 State Quarters Silver Proof Set

422,340

422,340

0

0.00%

none
* The 2008-dated coin products with an asterisk have been sold out or are no longer available.
The previous reported sales figures are located at Lincoln Silver Dollar Coin Sales Pop in US Mint Sales Stats – Feb 19.
Visit the CoinNews collector tool page Mint Price Guide for tables of common gold and platinum coin stats. Additionally, Numismatic News has a breakdown of the latest sales figures for most Mint coins here.