Lincoln Silver Dollars Break 335,000 in US Mint Sales – Mar 5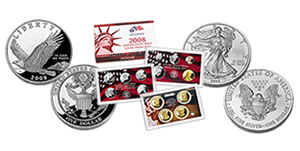 2009 Lincoln Silver Dollars are heading for a sellout. 335,051 have already sold since Feb. 12 and nearly 100,000 were picked up by collectors since last week's numbers.
A total mintage of 500,000 is authorized between the proof and uncirculated Lincoln coins. Additionally, tens of thousands are likely set aside for a special set the Mint has listed, but not yet described. Considering these factors and the current selling pace, the Mint could potentially stop individual sales as early as next week.
Lincoln dollars led the pack, but demand for all Mint silver coins increased as well. As always, the Annual Uncirculated Dollar Coin Set came in strong with a 2.8 percent increase. The set contains a 2008-dated American Eagle silver and each 2008 Presidential $1 coin for $37.95. Over 53,000 have been sold.
Here are the latest US Mint silver coin sales figures:
U.S. Mint Silver Coin Sales Stats
(Feb. Week 4 to March Week 1)
Previous Sales

New Sales

Unit Increase

% Increase

Mintage Limit

2008 American Eagle Silver Dollar Proof*

713,353

713,353

0

0.00%

none

2008 American Eagle Silver Dollar Uncirculated*

444,558

444,558

0

0.00%

none

2009 Lincoln Silver Proof

159,635

232,902

73,267

45.90%

500,000

2009 Lincoln Silver Uncirculated

75,614

102,149

26,535

35.09%

2008 Annual Uncirculated Dollar Coin Set

51,979

53,444

1,465

2.82%

none

2008 U.S. Mint Silver Proof Set

718,224

722,800

4,576

0.64%

none

2008 50 State Quarters Silver Proof Set

422,340

424,729

2,389

0.57%

none
* The 2008-dated coin products with an asterisk have been sold out or are no longer available.
The previous reported sales figures are located at Lincoln Silver Dollars Surge in Mint Sales Stats – Feb 26.
Visit the CoinNews collector tool page Mint Price Guide for tables of common gold and platinum coin stats. Additionally, NumisMaster has a breakdown of the latest sales figures for most Mint coins here.