US Mint 2009 Quarters Silver Proof Set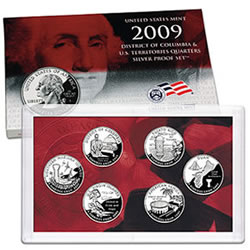 The US Mint on Monday began selling the 2009 Quarters Silver Proof Set. The annual set includes all the quarter-dollars released in the year with each struck in 90 percent silver and in proof condition.
This year's set includes the District of Columbia quarter and each U.S. Territories quarter, which includes Puerto Rico, Guam, American Samoa, U.S. Virgin Islands, and the Northern Mariana Islands.
The set is a tad more expensive this year as past years normally had just five coins. The price tag is $29.95, plus shipping and handling.
What are proof coins? According to the Mint's description:
United States Mint proof coins are extraordinarily brilliant, with sharp relief and a mirror-like background. Their frosted, sculpted foregrounds give them a special cameo effect. Proof blanks are specially treated, polished and cleaned to ensure high-quality strikes. The blanks are then fed into presses fitted with specially polished dies and struck at least twice to ensure sharp relief. The coins are then packaged in a protective lens to showcase and maintain their exceptional finish.
Where to order
Each quarter is produced at the US Mint in San Francisco and bears the "S" mintmark. The 2009 quarter collection may be ordered online through the Mint page:
2009 District of Columbia & U.S. Territories Quarters Silver Proof Set™
The Mint accepts telephone orders via their toll-free number, 1-800-USA-MINT (872-6468). Hearing- and speech-impaired customers may order by calling 1-888-321-MINT (6468).
Original Mint artist renderings and descriptions for each quarter may be found at 2009 Quarter Design Images. 2009 quarter program information is provided by the Mint here.
Upon the conclusion of the DC & US Territories Quarter Program, the Mint will begin striking National Park Quarters for 2010 and beyond.