US Mint Silver Coin Sales: 2009 Silver Proof Sets Jump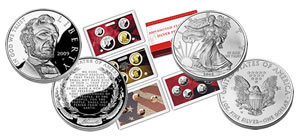 Sales of US Mint Silver Coins improved, rising from the prior week's data that showed collector demand retreated slightly.
The biggest gainer was the 18-coin 2009 Silver Proof Set, which popped up another 14,352 to register year-to-date sales of 521,060. The previous weekly increase was about 1/3 lower at 9,432 (although enough to push the sets over 500K).
Extra focus on the 18-coin Silver Proof set may have been detrimental to the 6-coin 2009 Quarters Silver Proof Set. It ended up as the only US Mint silver product to experience a decline. Numbers rose 2,480 compared to the prior weekly gain of 2,995.
The 2008 Annual Uncirculated Dollar Coin Set increase of 903 was better than the past three weekly advances. Along with the 2008 Presidential Dollars, this set includes an uncirculated 2008 Proof American Silver Eagle. The US Mint announced Tuesday that proof and uncirculated 2009 Silver Eagle coins are cancelled. Collectors may decide to grab a few of these 2008s while they can since there will be no 2009s – uncirculated dollar coins sets or uncirculated eagles. (See US Mint Uncirculated Silver Eagles Still on Sale.)
Speaking of eagles, the bullion versioned Silver Eagles climbed by 282,000 in the last seven days. For a recent report on their performances, read Silver Eagle Coins Near 21 Million in Sales.
The following two tables have the latest US Mint stats for collector silver coins and sets and bullion silver eagles.
U.S. Mint Collector Silver Coin Sales
(Sales compare previous to current Mint figures)
Previous Sales

New Sales

Unit Increase

% Increase

Mintage Limit

2009 Lincoln Silver Proof*
325,000
325,000
0
0.00%

500,000

2009 Lincoln Silver Uncirculated*
125,000
125,000
0
0.00%
2009 Braille Silver Proof
122,661
123,556
895
0.73%
400,000
2009 Braille Silver Uncirculated
45,326
45,592
266
0.59%
Braille Uncirculated in Easy-Open Capsule
20,390
20,648
258
1.27%
2009 US Mint Silver Proof Set
506,708
521,060
14,352
2.83%
none
2009 Quarters Silver Proof Set
240,293
242,773
2,480
1.03%
none
2008 Annual Uncirculated Dollar Coin Set
78,005
78,908
903
1.16%

none

2008 American Eagle Silver Dollar Proof*

713,353

713,353

0

0.00%

none

2008 American Eagle Silver Dollar Uncirculated*

444,558

444,558

0

0.00%

none
*Coin products with an asterisk are no longer available. Prior year products are listed until replaced by the new year offering. Sunday, Oct. 4, is the "as of date" for the US Mint collector coin sales figures shown above.
American Silver Eagle Bullion Coin Sales in October
| | | | |
| --- | --- | --- | --- |
| Oct 7 | Oct 14 | Oct 21 | Oct 28 |
| 282,000 | – | – | – |
The US Mint has sold 20,749,500 Silver Eagles this year.
In the notable news that is sure to solicit collectors' buying power, the Mint has added the Lincoln Coin and Chronicles Set to its store front. The 50,000 limited edition set is sure to spark sales when launched on Oct. 15, 2009. Most expect a rapid sell out. The Lincoln Silver proof coin, which is included in the chronicles set, sold out earlier in the year with 325,000 snapped up in about 44 days.
The previous reported sales figures are located at Silver Eagles Strong in September, Despite Struggle. The Silver Coins Today tool page Mint Prices & Sales has been updated with the latest Mint numbers.