Silver Coins Heating Up, Silver Sets Jump in Mint Sales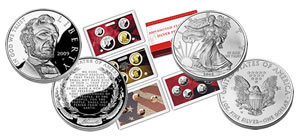 A new week ushered in greater demand for silver coins, new US Mint stats reveal. Previous weekly sales dipped, so the change is more pronounced.
Last week's silver coins report showed a spike in 2008 Annual Uncirculated Dollar Coin Sets. That is likely explained by the fact that the set is the only way to acquire an uncirculated American Silver Eagle now that the 2009's are canceled. While the latest weekly numbers are still higher than typical at 1,666, they are lower than the prior 2,180.
The remaining US Mint silver coins and set products performed better. Most memorable is the set sell out of the Lincoln Chronicles Set. Collectors purchased the maximum 50,000 in under 30 hours. As of this writing, the Mint is only taking standby orders in the event cancellations occur.
Braille Commemorative Silver Dollar products jumped. It looks like some collectors waited to make their Braille purchase when the Chronicles set was released, saving a few dollars in shipping. The newly issued Braille Education Sets improved to 5,996. The number is a sharp contrast to those of popular 2009 Lincoln products, but then it is hard to compare anything to how they have sold this year.
The 18-coin 2009 Silver Proof Set is back into the positive. Last week's report showed a negative adjustment of 1,001. The latest figures have them rising for a weekly gain of 12,306.
Bullion 2009 American Silver Eagles are moving quickly. With 10 days still left in the month, 1,625,000 have been sold. That is 78,000 short of equaling the entire month of September. 733,000 were purchased by the Mint's authorized purchasers in the last week alone. The year-to-date total is at 22,092,500.
The following two tables have the latest US Mint stats for collector silver coins and sets and bullion silver eagles.
U.S. Mint Collector Silver Coin Sales
(Sales compare previous to current Mint figures)
Previous Sales

New Sales

Unit Increase

% Increase

Mintage Limit

2009 Lincoln Silver Proof*
325,000
325,000
0
0.00%

500,000

2009 Lincoln Silver Uncirculated*
125,000
125,000
0
0.00%
Lincoln Coin and Chronicles Set*
–
50,000
–
–
2009 Braille Silver Proof
123,899
125,344
1,445
1.17%
400,000
2009 Braille Silver Uncirculated
45,627
45,937
310
0.68%
Braille Uncirculated in Easy-Open Capsule
20,539
20,951
412
2.01%
Braille Education Set
2,719
5,996
3,277
120.52%
2009 US Mint Silver Proof Set
520,059
532,365
12,306
2.37%
none
2009 Quarters Silver Proof Set
243,714
245,639
1,925
0.79%
none
2008 Annual Uncirculated Dollar Coin Set
81,088
82,754
1,666
2.05%

none

2008 American Eagle Silver Dollar Proof*

713,353

713,353

0

0.00%

none

2008 American Eagle Silver Dollar Uncirculated*

444,558

444,558

0

0.00%

none
*Coin products with an asterisk are no longer available. Prior year products are listed until replaced by the new year offering. Sunday, Oct. 18, is the "as of date" for the US Mint collector coin sales figures shown above.
2009 Silver Eagle Bullion Coin Sales in October
| | | | |
| --- | --- | --- | --- |
| Oct 7 | Oct 14 | Oct 21 | Oct 28 |
| 282,000 | 892,000 | 1,625,000 | – |
The US Mint has sold 22,092,500 Silver Eagles this year.
The Silver Coins Today tool page Mint Silver Coins Sales has been updated with the latest Mint numbers.