Silver Proof Sets Pass 500K in Sales, Silver Eagle Coins Top 20M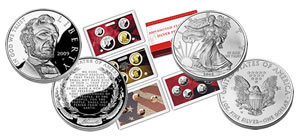 Collector demand for silver coins and sets pulled back slightly but investor demand for bullion American Silver Eagle Coins has surged, according to the latest round of US Mint sales figures.
Bullion Silver Eagles picked up the pace in the final two weeks of September, making the sales total at least more respectable as compared to the monthly numbers in Jan. – Aug.
Although the month will now be registered as the biggest under performer in 2009, it easily ranks as the second best September of all-time with 1,703,000 silver eagles sold. (September 2008 was #1 at 1,825,000.)
Bullion Eagle Silver Coin Sales: September 1986-2009*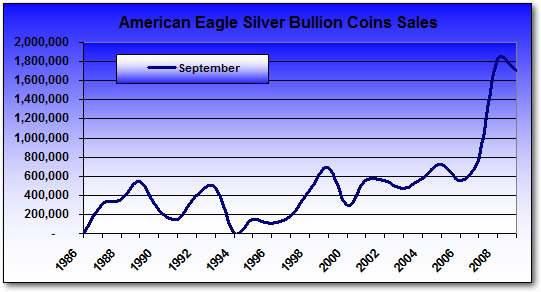 *Sales as of Sept. 30, 2009.
September will also bear the distinction as to the time when 2009 silver eagles topped 20 million. This year WILL be record breaking for annual American Silver Eagles sales. 2008-dated bullion eagles hit 20,583,000, which was the highest point since the series launched in 1986. With three months still left to go, 2009 eagles are already at 20,467,500.
Collector Silver Coins & Sets
The recent picture is less rosy for collector silver coins and sets. During the last seven days ending Sunday, Sept. 27, demand retreated slightly for all proof and uncirculated silver coin/set offerings when compared to prior seven day period.
As expected and noted last week, 2009 US Mint Silver Proof Sets topped 500K in sales — an impressive accomplishment considering the sets were released on July 17, 2009. Is one million on the horizon? They should be available for many, many more months. If the US Mint practice holds, the set will be on sale until replaced by 2010s. 9,432 were sold in the latest full week. At that pace it would take more than 52 weeks to break 1 million.
In the notable news that is sure to solicit collectors' buying power, the Mint has added the 2009 US Lincoln Coin and Chronicles Set to its store front. The 50,000 limited edition set is sure to spark sales when launched on Oct. 15, 2009. Most expect a rapid sell out. The Lincoln Silver proof coin, which is included in the chronicles set, sold out earlier in the year with 325,000 snapped up in about 44 days.
The following two tables have the latest US Mint stats for collector silver coins and sets and bullion silver eagles.
U.S. Mint Collector Silver Coin Sales
(Sales compare previous to current Mint figures)
Previous Sales

New Sales

Unit Increase

% Increase

Mintage Limit

2008 American Eagle Silver Dollar Proof*

713,353

713,353

0

0.00%

none

2008 American Eagle Silver Dollar Uncirculated*

444,558

444,558

0

0.00%

none

2009 Lincoln Silver Proof*
325,000
325,000
0
0.00%

500,000

2009 Lincoln Silver Uncirculated*
125,000
125,000
0
0.00%
2009 Braille Silver Proof
121,852
122,661
809
0.66%
400,000
2009 Braille Silver Uncirculated
45,114
45,326
212
0.47%
Braille Uncirculated in Easy-Open Capsule
20,155
20,390
235
1.17%
2009 Silver Proof Set
497,276
506,708
9,432
1.90%
none
2009 Quarters Silver Proof Set
237,298
240,293
2,995
1.26%
none
2008 Annual Uncirculated Dollar Coin Set
77,359
78,005
646
0.84%

none

2008 U.S. Mint Silver Proof Set*
774,874
774,874
0
0.0%

none
*Coin products with an asterisk are no longer available. Sunday, Sept. 27, is the "as of date" for the US Mint collector coin sales figures shown above.
American Silver Eagle Bullion Coin Sales in September
| | | | | |
| --- | --- | --- | --- | --- |
| Aug 2 | Aug 9 | Aug 16 | Aug 23 | Aug 30 |
| 0 | 450,000 | 600,000 | 1,100,000 | 1,703,000 |
The US Mint has sold 20,467,500 Silver Eagles this year.
The previous reported sales figures are located at Silver Eagles Strong in September, Despite Struggle. The Silver Coins Today tool page Mint Prices & Sales has been updated with the latest Mint numbers.