Silver Prices Top $22, Third Week of 30-Year Highs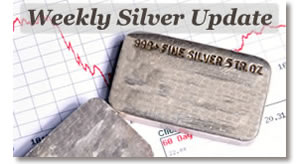 U.S. silver prices soared 23.9 cents to close above $22 an ounce on Friday, capping three straight weekly gains and continuing a run of fresh 30-year highs.
Prices finished lower only once this week as profit-taking emerged on Thursday, the final day in September and of the third quarter. Still, prices soared 12.3 percent for the month and 16.6 percent for the quarter.
Silver for December delivery on Friday settled at $22.06 an ounce on the Comex in New York. It was the metals best close since 1980. For the week, silver gained 66.1 cents, or 3.1 percent, after rallying 58.3 cents, or 2.8 percent, last week.
"Investors are clearly shifting their focus to precious metals of a hybrid character," Commerzbank said in a report released Thursday. "These firstly have the status of a safe haven, but also show some correlation with the economic cycle. Silver, platinum and also palladium should therefore remain well supported."
Silver has outperformed gold for a third consecutive week, trimming the silver-to-gold ratio further, which is now at 59.74. That compares to last Friday's ratio when it took 60.66 ounces of silver to buy one ounce of gold.
The London silver Fix price settled at $21.95 an ounce, which was down from the highest price of $22.07 fixed on Thursday. For the week, London silver was up 60 cents, or 2.8 percent. It climbed 50 cents, or 2.4 percent last week.
In silver coins, the United States Mint this week raised American Silver Eagle prices from silver spot plus $1.50 to silver spot plus $2.00. It was the first premium increase Mint authorized dealers have seen since the 10 cent raise on February 9, 2009.
The bullion American Eagle silver coins have been on fire during the last two weeks, driven by $21+ silver prices. They rose 325,000 on the first day of October, capping a weekly increase of 985,000 which tops last week's advance of 830,000. Had the first two week's of September been as strong, the month would have been at or toward the top of monthly gains this year. However, Silver Eagle sales were sluggish at start, and September now ranks at the very bottom with and ending figure of 1,880,000. It was the first time this year that a month came below 2 million. The silver coins have a year-to-date total of 25,808,500.
Bullion weekly price charts for New York and London follow:
New York Futures Precious Metal Prices

December
Gold
December
Silver
October
Platinum
December
Palladium
9/24/2010
1298.10
21.399
1639.80
560.50
10/1/2010
1317.80
22.060
1682.10
574.90
New York Futures Weekly Changes

Up
Down
% Change
Gain/Loss
Silver
X
3.1%
$0.661
Gold
X
1.5%
$19.70
Platinum
X
2.2%
$36.70
Palladium
X
2.6%
$14.40
London Fix Precious Metal Prices

Gold
Silver
Platinum
Palladium
AM
PM
AM
PM
AM
PM
9/24/2010
1298.00
1297.00
21.35
1644.00
1645.00
558.00
562.00
10/1/2010
1313.00
1316.25
21.95
1669.00
1679.00
570.00
571.00
London Weekly Bullion Changes

Up
Down
% Change
Gain/Loss
Silver
X
2.8%
$0.60
Gold
X
1.5%
$19.25
Platinum
X
2.1%
$34.00
Palladium
X
1.6%
$9.00
For daily levels, check out the spot silver page.