Silver Prices Continue at 2009 Highs for Third Week of September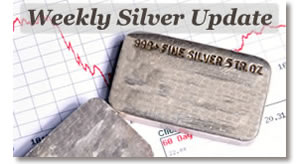 Silver prices continued to hit new 2009 highs during the third week of September, but stepped back slightly on the final day of trading.
London and New York silver enjoyed weekly gains of 1.3 percent and 2.2 percent, respectively, with both registering four consecutive weeks of advances.
New York silver futures for December delivery closed Friday at $17.07 an ounce, rising 37 cents for the week.
London silver rose 22 cents on the week after a 94 cent advance the week prior which followed a $1.41 gain. It closed Friday at $17.11 an ounce. The metal's high point of the week, and the year, was $17.38 an ounce on Thursday. London silver is now up $6.32, or 58.6 percent this year as compared to the $10.79 closing price on Dec. 31, 2008.
London precious metal weekly prices follow:
London Fix Precious Metal Prices

Gold

Silver

Platinum

Palladium

AM

PM

AM

PM

AM

PM

9/11/2009
998.25
1008.25
16.89
1287.00
1292.00
291.00
292.00
9/18/2009
1014.00
1012.00
17.11
1326.00
1337.00
300.00
304.00
Dollar and Percent Price Changes

Up

Down

% Change

$ Change

Silver
X

1.3%

$0.22

Gold
X

0.4%

$3.75

Platinum
X

3.5%

$45.00

Palladium
X

4.1%

$12.00
These articles offer precious metals and silver coin news:
For daily silver news and prices, visit Silver Prices.