Silver Prices Surge 6.1% in NY and 5.0% in London, 2009 Highs Hit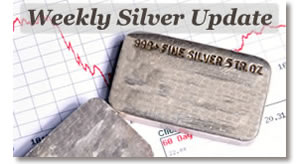 Silver prices soared this week as the metal followed the path of rising gold. 2009 highs were reached on Wednesday, before easing back yet still earning respective weekly increase in New York and London of 6.1 percent and 5.0 percent.
New York silver futures for December delivery ended at $18.44 an ounce on Friday to register a $1.06 weekly increase. Prices reached an intraday peak of $18.855 on Wednesday, which was the highest level since July 2008.
London silver ended at $18.18 an ounce, surging 86 cents from last Friday's fix. Wednesday was the 2009 high point with a $18.74 per ounce price. As of Friday, the metal has jumped $7.39, or 68.5 percent, this year (as compared to the $10.79 price on Dec. 31, 2008).
"Silver has benefited from gold's strength, U.S. dollar weakness, some investors' rising concerns at the potential for higher inflation," and investors' interest in commodities "in a very low interest rate environment," London-based precious metals consultancy GFMS Ltd. said in a report Thursday that was cited on MarketWatch in an article entitled Silver prices to top $20 in short term, GFMS says.
London precious metal weekly prices follow:
London Fix Precious Metal Prices

Gold

Silver

Platinum

Palladium

AM

PM

AM

PM

AM

PM

11/13/2009
1107.50
1104.00
17.32
1359.00
1359.00
354.00
354.00
11/20/2009
1142.50
1140.00
18.18
1430.00
1435.00
361.00
360.00
Dollar and Percent Price Changes

Up

Down

% Change

$ Change

Silver
X

5.0%

$0.86

Gold
X

3.3%

$36.00

Platinum
X

5.6%

$76.00

Palladium
X

1.7%

$6.00
These articles offer precious metals and silver coin news:
For daily silver news and prices, visit Bullion Prices.