US Mint Raises Bullion 2010 American Silver Eagle Prices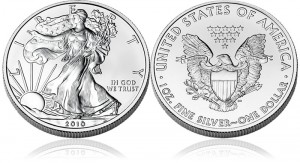 The United States Mint has officially raised their wholesale pricing above spot on American Silver Eagles to all authorized dealers from $1.50 to $2.00, an increase of a whopping 33%.
This news comes on the heels of a significant silver spot price rally over the last month to a new thirty year record over $22 per ounce. The impact of this news is significant and has already affected dealer pricing across the country within hours, as prices on Silver American Eagles have jumped over $0.50/oz industry wide.
The year 2010 will go down as a record year for Silver Eagle sales, as the United States Mint has already sold more than 25 million coins year-to-date. See chart below:
2010 Silver Eagle Sales
January
3,592,500
February
2,050,000
March
3,381,000
April
2,507,500
May
3,636,500
June
3,001,000
July
2,981,000
August
2,451,000
September
1,880,000
Total
25,480,500
This development comes only two days after the US Mint announced it had sold out of 2010 gold American Buffalo and would cease production for the remainder of the year.
The impact of this rise in premiums will undoubtedly affect the prices of generic silver rounds as well. We will monitor these developments closely, as the rush into silver impacts pricing and availability.
Tarek Saab is a former finalist on NBC's "The Apprentice" with Donald Trump. He is an international speaker, syndicated author, entrepreneur, and a managing partner at Trusted Bullion.