Silver Prices Rise 1.1% in July, Snapping 4-Month Losing Streak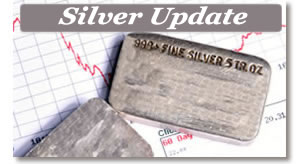 U.S. silver prices advanced in July, snapping a four-month losing streak. The white metal tracked gold for most of the month, which tended to move opposite of the greenback and rise on investors' hopes of more stimulus measures in the U.S. and Europe.
In closing Tuesday, silver prices for September delivery dipped 11.9 cents, or 0.4%, to $27.91 an ounce on the Comex in New York. Silver prices touched an intraday low of $27.87 an ounce and reached a high of $28.34 an ounce.
For July, silver prices traded up 30.2 cents, or 1.1%. That follows losses of 0.5% in June, 10.5% in May, 4.5% in April and 6.2% in March. Silver soared 19.2% in January and 4.2% in February.
In 2012, silver is virtually unchanged. Its price is down a smidgen at one-tenth of a cent.
Jim Wyckoff of Kitco writes about the near-term technical aspects for the precious metal:
"Silver bulls have gained a bit of fresh upside near-term technical momentum recently. Silver bears do still have the slight overall near-term technical advantage, however.

Bulls' next upside price breakout objective is closing prices above solid technical resistance at the July high of $28.445 an ounce. The next downside price breakout objective for the bears is closing prices below solid technical support at last week's low of $26.575."
In other New York precious metals futures on Tuesday and for the month:
December gold prices settled to $1,614.60 an ounce for a 0.6% pick-up in July,
October platinum prices closed at $1,416.90 an ounce for a monthly loss of 2.4%, and
September palladium prices settled at $590.55 an ounce for a gain of 1.0% in July
Gold this year is performing the best in the group of metals, up 3.1%. Platinum follows at 0.9% while palladium has plunged 10.0%.
Also on Tuesday, the London silver Fix was $28.20 an ounce for a hefty 56-cent gain. For July, prices advanced $1.12, or 4.1%.
And in other London fixings for the day and month, gold at $1,622 an ounce climbed 1.5% in July, palladium at $591 an ounce gained 2.2% for the month and platinum at $1,427 an ounce fell 2.2% in July.