Silver Prices Tumble, Breaking 5-Week Winning Streak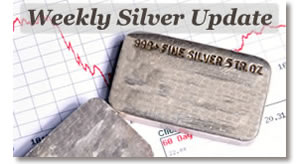 U.S. silver prices tumbled this week, breaking a streak of five weekly gains. Precious metals moved mostly as a group in the last several days, following gold which sank as the U.S. dollar showed strength against other world currencies. Profit-taking was also a motivating factor for losses, opined many an analyst.
On Friday, New York silver futures for December delivery declined 2.1 cents, or 0.1 percent, to $23.118 an ounce — its lowest closing price since October 8, 2010. Prices were volatile for much of the week, with daily low-to-high swings ranging between 55.6 cents and $1.24. The metal settled at its best point of $24.413 an ounce on Monday. It continued to fall from there, with the exception of an 8.4 cent increase on Wednesday. For the week silver plummeted $1.17, or 4.8 percent.
That made it the worst performer of all precious metals, which also broke a string of five straight weeks where it had outshined gold. The latest silver-to-gold ratio is 57.32, up from last Friday when 56.49 ounces of silver were needed to buy one ounce of gold. The ratio was pushing near 66 in June.
Despite recent losses, most analysts at the Silver Summit in Spokane, Washington, this week were bullish on silver's long-term prospects, according to Allen Sykora of Kitco News. A few quotes noted by Sykora who reported on the event:
"Our expectation is the silver price is going to stay strong between now and February to March, and the potential for the price to spike even higher exists," said Jeffrey Christian, managing director of CPM Group. Christian was noted as saying that the $30 area is possible, but that prices could move lower as 2011 progresses and economic concerns decline.
Here is a straight excerpt from Sykora's report regarding comments by David Franklin, market strategist with Sprott Asset Management:
"We're very bullish on silver," Franklin said. Money flows have changed so that U.S. Mint coin sales are now at a ratio of $2 for gold for every $1 of silver, he said. This shows greater interest in silver than another ratio in which the above-ground value of the world's gold to silver is 118 to one. "So people are choosing silver over gold with their own dollars," Franklin said. Some may feel they missed the rally in gold and want to board silver's train, he said.
And finally, one more from Kitco's own senior analyst, Jon Nadler:
Nadler expressed reservations about silver's ascent mainly because so much of the rally has been fueled by investment. This means potential for the market to fall back should this demand stagnate or decline. In many instances, speculative funds put borrowed money to work in markets they think will rise, such as record oil and copper prices a couple of years ago, he explained. The advent of exchange-traded funds also boosted silver. But eventually, he said, this investment could be hurt whenever global central banks opt to reverse loose-money-supply policies, or should the Federal Reserve should not be as aggressive with quantitative easing as many expect.
In London silver prices, the Friday PM Fix came in at $23.05 an ounce, marking the lowest point since October 12. Prices fell $1.37, or 5.6 percent, this week after soaring $2.05, or 9.2 percent, last week. London Fix silver prices, however, are still up 35.7 percent this year.
Fewer orders were placed for U.S. Mint 2010 Silver Eagles coins this week as compared to last, but levels were solid. Mint authorized dealers scooped up nearly three quarters of a million more of the silver coins this week. That pulled October sales above September" 1.88 million and nearer the 2.45 million in August. Year-to-date sales are 936,000 short of topping the all-time annual record set in 2009.
U.S. Mint Sales: 2010 American Eagle Silver Coins
Prior Weekly Gain
Current Weekly Gain
October 2010
2010 Totals
Bullion 1 oz
875,000
725,000
2,350,000
27,830,500
Bullion weekly price charts for New York and London follow:
New York Futures Precious Metal Prices

December
Gold
December
Silver
January
Platinum
December
Palladium
10/15/2010
1372.00
24.288
1695.40
589.20
10/22/2010
1325.10
23.118
1675.10
591.10
New York Futures Weekly Changes

Up
Down
% Change
Gain/Loss
Silver
X
-4.8%
-$1.17
Gold
X
-3.4%
-$46.90
Platinum
X
-1.2%
-$20.30
Palladium
X
0.3%
$1.90
London Fix Precious Metal Prices

Gold
Silver
Platinum
Palladium
AM
PM
AM
PM
AM
PM
10/15/2010
1377.25
1367.50
24.42
1701.00
1691.00
597.00
591.00
10/22/2010
1319.00
1322.50
23.05
1661.00
1673.00
583.00
586.00
London Weekly Bullion Changes

Up
Down
% Change
Gain/Loss
Silver
X
-5.6%
-$1.37
Gold
X
-3.3%
-$45.00
Platinum
X
-1.1%
-$18.00
Palladium
X
-0.8%
-$5.00
For current prices, visit the SilverCoinsToday.com page: Spot Silver Prices.