Silver Prices Drop, Ending Two-Week Winning Streak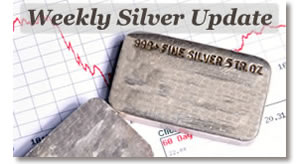 U.S. silver prices tumbled on Friday, erasing prior day gains and cementing a weekly loss.
Silver was on a roll this week until the Chicago Mercantile Exchange (CME) announced an increase in silver margins from $5,000 to $6,000.
The news triggered an after-hours selloff on Tuesday which continued into Wednesday and sank prices by $2.04, or 7.1 percent — silver's biggest one-day loss since December 2008.
New York Silver Prices Daily Gains/Losses

Monday
Tuesday
Wednesday
Thursday
Friday
$0.684
$1.474
-$2.041
$0.540
-$1.463
Silver prices recovered by 54 cents on Thursday as European debt concerns resurfaced, sparking safety-buying in precious metals. But prices tumbled in a second major slide on Friday when all commodities were pressured on speculation that China would raise interest rates to slow inflation.
"We have a liquidation pattern across the board in every commodity market," Adam Klopfenstein, senior market strategist with MF Global's unit Lind-Waldock, was cited on Reuters. "Gold and other commodities are going to suffer in the short run as a result of the change in the opinion in the marketplace that China might not be able to grow as fast if it is going … to rein in … inflation or to curb fast money that has been spurring the economy," Klopfenstein added.
On Friday, silver prices for December delivery tumbled 5.3 percent to settle at $25.942 an ounce on the Comex in New York. The level marks a stark contrast to the 30-year high of $29.340 an ounce reached on Tuesday.
Silver lost 80.6 cents, or 3.0 percent, for the week, ending a two-week wining streak, including last week's 8.9 increase. New York silver is still higher by 54.0 percent in 2010.
"Increased inflationary pressure could sustain investor interest in precious metals as they look for a store of value," analysts at Deutsche Bank AG said Friday in a report. "However, one of the near-term risks is that Chinese authorities embark on a more aggressive monetary-tightening cycle."
The precious metal fell slightly more than gold, which lifted the silver-to-gold ratio to 52.64 from last Friday's 52.25.
London silver fixing prices managed to register weekly gains. The silver Fix was $26.79 an ounce, its fourth best price since last Friday. For the week, the metal was up 65.0 cents, or 2.5 percent. Prices are now 57.7 percent higher in 2010 based on the fixing of $16.99 an ounce on December 31, 2009.
The volatile week in silver prices proved to be a boon for U.S. Mint 2010 Silver Eagles. The .999 fine bullion silver coins enjoyed their best performance in months, rising by 1.685 million. Last week their numbers improved by 805,000, which had easily topped the prior 250,000. The latest additions lift the Silver Eagles' all-time annual record higher to just under 30.6 million.
The following table shows the latest United States Mint bullion silver coin figures:
2010 American Eagle Silver Coin Sales
Prior Weekly Gain
Current Weekly Gain
November 2010
2010 Total
Bullion 1 oz
805,000
1,685,000
1,940,000
30,570,500
Bullion weekly price charts for New York and London follow:
New York Futures Precious Metal Prices

December
Gold
December
Silver
January
Platinum
December
Palladium
11/5/2010
1397.70
26.748
1768.90
685.40
11/12/2010
1365.50
25.942
1684.60
673.65
New York Futures Weekly Changes

Up
Down
% Change
Gain/Loss
Silver
X
-3.0%
-$0.806
Gold
X
-2.3%
-$32.20
Platinum
X
-4.8%
-$84.30
Palladium
X
-1.7%
-$11.75
London Fix Precious Metal Prices

Gold
Silver
Platinum
Palladium
AM
PM
AM
PM
AM
PM
11/5/2010
1384.25
1395.00
26.140
1760.00
1764.00
678.00
687.00
11/12/2010
1387.00
1388.50
26.790
1705.00
1712.00
684.00
703.00
London Weekly Bullion Changes

Up
Down
% Change
Gain/Loss
Silver
X
2.5%
$0.65
Gold
X
-0.5%
-$7.00
Platinum
X
-2.9%
-$52.00
Palladium
X
2.3%
$16.00