Weekly Silver Prices Rise 0.2% in London, Drop 0.5% in New York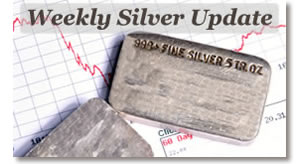 Precious metals were mixed this week as large price retreats on Monday were quietly chipped into on succeeding days, ending with solid boosts Friday.
In terms of weekly silver numbers, the metal managed to break a three-week loosing streak in London while falling slightly in New York.
New York silver futures for July gained 12.3 cents on Friday to end at $14.128 an once. In the end, the weekly loss was trimmed to 7.2 cents for a 0.5% decline.
London silver moved strongly on Friday as well, rising 39 cents to end at $14.26 an ounce. The price is a modest 3 cent increase for the week, marking a percentage rise of 0.2%. The up tick was enough to boost silver's yearly increase to 32.2%. The price is $3.47 more than the $10.79 closing on December 31 — although still a significant contrast to the $4.73, or 43.8 percent, increase in May when silver prices reached their heights.
Here are week changing London precious metal prices:
London Fix Precious Metal Prices

Gold

Silver

Platinum

Palladium

AM

PM

AM

PM

AM

PM

6/19/2009
933.75
935.25
14.23
1209.00
1212.00
241.00
243.00
6/26/2009
943.00
942.00
14.26
1208.00
1203.00
244.00
245.00
Dollar and Percent Price Changes

Up

Down

% Change

$ Change

Silver
X

0.2%

$0.03

Gold
X

0.7%

$6.75

Platinum

X

-0.7%

-$9.00

Palladium

X

0.8%

$2.00
These articles offer week ending precious metals and silver coin news:
For daily silver news and prices, visit Precious Metal Prices.