Silver Prices Surge in First 2010 Trading Week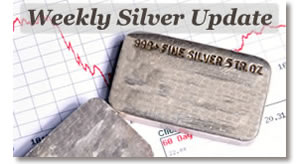 Silver prices were smoking hot during the first full week of trading in 2010. For the week, the metal soared 9.6 percent in New York and was fixed 6.7 percent higher in London.
Silver prices in 2009 posted an annual gain in New York of 49 percent, which was the biggest yearly increase since 1979. The percent gain was even larger in London at 57.5 percent. The trend is continuing for at least the first week of this year.
New York silver futures for March delivery ended the week at $18.47 an ounce, soaring an impressive $1.62 since the final trading day of 2009. London silver was fixed at $18.12 an ounce, surging $1.13 during the same time frame.
"While we see both gold and silver as safe haven investments, particularly as a hedge against the longer term risk of hyper-inflation, we believe gains in silver will outpace gold," advised Charles Gradante, co-founder of the Hennessee Group, in a statement cited on Epock Times in an article entitled Silver May Rise As Hot Commodity.
London precious metal weekly prices follow:
London Fix Precious Metal Prices

Gold

Silver

Platinum

Palladium

AM

PM

AM

PM

AM

PM

12/31/2009
1104.00
–
16.99
1466.00
–
402.00
–
1/8/2010
1121.75
1126.75
18.12
1547.00
1569.00
424.00
431.00
Dollar and Percent Bullion Price Changes

Up

Down

% Change

$ Change

Silver
X

6.7%

$1.13

Gold
X

2.1%

$22.75

Platinum
X

7.0%

$103.00

Palladium
X

7.2%

$29.00
These articles offer precious metals and silver coin news:
For silver news and prices, visit Daily Silver Prices.