2009 NY and London Silver Prices, Annual Gains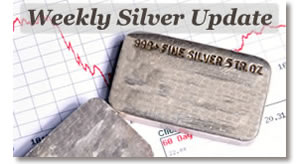 Despite a down week, silver had a spectacular 2009. The metal posted an annual gain in New York of 49%, which was the biggest yearly increase since 1979. The percent gain was even larger in London at 57.5%.
New York silver futures for March delivery ended the year at $16.85 an ounce — plunging 60 cents, or 3.4 percent, for the week. The price more than tripled from the $5.453 mark at the end of 1999.
London silver was fixed at $16.99 an ounce, falling 33 cents or 1.9 percent for the week. The metal ranged from a low of $16.92 on Wednesday to a $17.42 high point on Tuesday. It jumped $6.20 in 2009. London silver finished at $5.33 a decade ago.
For most of 2009, silver followed gold's direction. Gold in turn moved opposite of the US dollar. Where the greenback heads in 2010 is likely to contribute greatly to silver's direction again. A couple of thoughts by two market players follow:
"The purchasing power of all currencies is being eroded," James Turk, the founder of Jersey, Channel Islands-based GoldMoney.com, said on Bloomberg. "I look at the real price of goods and I see hyperinflation for the dollar in the not-too-distant future. That means a declining value of the dollar and higher gold prices."

"It appears that 2009 will end much the way it started in the financial markets, a dollar story," Brian Kelly, chief executive of Kanundrum Research, a commodities and macroeconomic research firm, said on MarketWatch. "For gold the catalyst in 2010 will be inflationary pressures."
London precious metal weekly prices follow:
London Fix Precious Metal Prices

Gold

Silver

Platinum

Palladium

AM

PM

AM

PM

AM

PM

12/24/2009
1104.50
–
17.32
1456.00
–
377.00
–
12/31/2009
1104.00
–
16.99
1466.00
–
402.00
–
Dollar and Percent Bullion Price Changes

Up

Down

% Change

$ Change

Silver
X

-1.9%

-$0.33

Gold
X

-0.05%

-$0.50

Platinum
X

0.7%

$10.00

Palladium
X

6.6%

$25.00
These articles offer precious metals and silver coin news:
For daily silver news and prices, visit Silver Prices.