Silver Prices Sink 8.3% in NY, 6.1% and London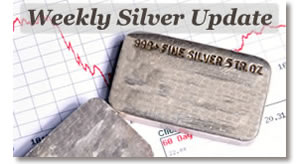 October has been a month of seesaw silver prices, with the latest weekly silver numbers plunging in both New York and London. Last week the metals overcame the previous week's decline. This week those gains were given back, and more.
New York silver futures for December delivery closed to $16.255 an ounce on Friday, and finished the week lower by $1.468, or 8.3 percent.
London silver was set to $16.65 an ounce, plunging $1.08, or 6.1 percent, on the week. The loss bites into the metal's yearly performance, which is still up an impressive $5.78, or 53.6 percent from the $10.79 fixes price on Dec. 31, 2008. However, the gain was 63.6 percent just last Friday.
"A less-euphoric outlook to global growth may help explain why the price declines in silver and platinum have been more severe than gold over the past week," analysts at Deutsche Bank said on Bloomberg.com
London precious metal weekly prices follow:
London Fix Precious Metal Prices

Gold

Silver

Platinum

Palladium

AM

PM

AM

PM

AM

PM

10/23/2009
1061.25
1061.75
17.65
1369.00
1372.00
335.00
338.00
10/30/2009
1044.50
1040.00
16.57
1328.00
1320.00
327.00
324.00
Dollar and Percent Price Changes

Up

Down

% Change

$ Change

Silver
X

-6.1%

-$1.08

Gold
X

-2.0%

-$21.75

Platinum
X

-3.8%

-$52.00

Palladium
X

-4.1%

-$14.00
These articles offer precious metals and silver coin news:
For daily silver news and prices, visit Silver Spot Prices.