Silver Prices Plunge in April, But Physical Demand Surges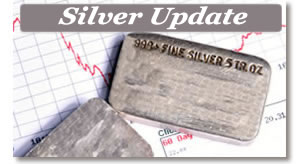 Silver prices inched higher Tuesday, but they sank for April even as physical demand for the precious metal soared.
Silver futures for July delivery finished the day up 1.9 cents, or 0.1%, to close at $24.19 an ounce on the Comex in New York. Intraday prices ranged from a low of $24.02 an ounce to a high of $24.55 an ounce.
Logging a third straight monthly decline, silver prices in April 2013 dived $4.14, or 14.6%. For a perspective of prior months in 2013, the precious metal was off 10.9 cents in March, fell $2.92 in February and gained $1.12 in January.
While silver was down for the month, it ended well above its lowest settlement price of $22.96 an ounce on April 19 as robust demand for physical silver emerged from around the world.
"We're seeing gold and silver both higher on central-bank expectations mostly," MarketWatch on Monday quoted Tom Essaye, editor of the 7:00's Report, daily commentary on equity and commodity markets and the economy.

"Continued reports of very substantial physical demand for gold and silver at home and abroad are supporting prices," Essaye added.
In the U.S., sales of bullion American Eagle silver coins hit 4,087,000 in April for a 21.8% increase over March and a 168.9% surge over April of last year. Year to date sales of the bullion silver coins stand at 18,310,000, a level never before reached so soon in a year. Last year the silver coins did surpass the 18.3 million mark until July 16.
In returning to futures, for the year to date silver prices have fallen $6.04, or 20%.
There was a mixing in other precious metals in New York on Tuesday. For the numbers on the day and month:
June gold futures settled at $1,472.10 an ounce for an April decline of $123.60, or 7.8%,
July platinum ended at $1,507.20 an ounce for a monthly loss of $67.40, or 4.3%, and
June palladium futures closed at $697.80 an ounce for an April decline of $70.45, or 9.2%
For the year to date, losses include 12.2% for gold, 2.3% for platinum and 0.8% for palladium.
Also on Tuesday, the London silver Fix was $24.42 an ounce for a daily pick-up of 15 cents, or 0.6%. For April, London silver prices sank $4.22, or 14.7%. For 2013 so far, the London silver Fix has fallen $5.53, or 18.5%.
In other London precious metals fixings, gold at $1,469 an ounce plunged 8.1% for the month, palladium at $699 an ounce dropped 9.2% in April and platinum at $1,507 an ounce declined 4.4% for the month.
For the year to date, losses include 18.5% for silver, 11.7% for gold and 1.1% for platinum. Palladium is unchanged, having also ended last year at $699 an ounce.