Silver Prices Plunge in February 2013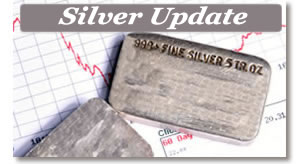 Silver prices moved lower Thursday, adding to already weighty losses in February.
Silver futures for May delivery settled down 55.3 cents, or 1.9%, to $28.43 an ounce on the Comex in New York. The precious metal touched an intraday low of $28.40 an ounce and reached a high of $29.19 an ounce.
And with the day's loss added in, silver prices in February 2013 plummeted $2.92, or 9.3%. The monthly decline marks a stark turnaround from January when the precious metal climbed $1.12, or 3.7%.
"May silver bears have the near-term technical advantage. Prices are in a six-week-old downtrend on the daily bar chart," writes Jim Wyckoff of Kitco Metals.

"Bulls' next upside price breakout objective is closing prices above solid technical resistance at this week's high of $29.495 an ounce. The next downside price breakout objective for the bears is closing prices below solid technical support at the February low of $28.315."
For the year to date, silver prices have fallen $1.80, or 5.9%.
Other precious metals in New York also ended lower Thursday and for the month, but not to the level of silver's fall. For the numbers:
April gold settled at $1,578.0.10 an ounce for a February loss of $83.90, or 5%,
April platinum ended at $1,583.50 an ounce for a monthly decline of $91.90, or 5.5%, and
June palladium closed at $734.55 an ounce for a February loss of $11.15, or 1.5%
Gold is off 5.9% in 2013. Platinum and palladium, however, remain higher with respective year-to-date increases of 2.7% and 4.4%.
Also on Thursday, the London silver Fix was $28.95 an ounce for a modest decline of 12 cents, or 0.4%. For February, London silver prices plunged $3.08, or 9.6%. By comparison, the white metal in January advanced $2.08, or 6.9%. For 2013 so far, London silver had dropped $1.00, or 3.3%.
In other London precious metals, gold at $1,588.50 an ounce fell 4.6% for the month, palladium at $744.00 an ounce actually gained 0.7% in January and platinum at $1,598.00 an ounce declined 4.4% for the month.
For the year-to-date, silver is 3.3% lower while palladium has climbed 6.4% and platinum has gained 4.9%.