Silver Prices Surge, Narrowing Weekly Loss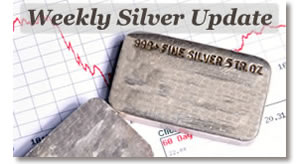 U.S. silver prices surged on Thursday and Friday, paring sharp prior day declines to significantly narrow the metal's weekly loss.
New York silver futures for July delivery marked an intraday high of $19.46 an ounce to start the week, but plummeted Monday afternoon to close at $18.808 an ounce. Prices picked up by nearly a dime on Tuesday only to end at their lowest point of the week on Wednesday at $18.459 an ounce.
Silver settled Friday to $19.110 an ounce, jumping 37.4 cents to register a second day of gains. Still, the metal retreated 7.4 cents, or 0.4%, since last Friday, halting a third straight week of gains.
In silver news from Businessweek, Kim Kyoungwha reported on analysts from Commerzbank AG who wrote that silver may move as high as $21 an ounce this year and as much as $23 an ounce next year.
"As with gold, silver is also considered to exhibit stabilizing characteristics when it comes to value," Eugen Weinberg, head of Commerzbank commodity research, wrote in a report, dubbing the metal 'gold's little brother'. "Silver is reasonably priced compared to gold and constitutes a low-cost alternative."

The gold to silver ratio has climbed to about 65 compared with an average of 59 over the past "several years," according to the report. Weinberg said: "We expect this ratio to swing back, leading to potential for silver."
Based on New York futures closing prices on Friday, the current gold to silver ratio remains near the level, with 1 ounce of gold buying 65.7 ounces of silver. Last's week's closing ratio was 65.6.
The London silver fix ended at $18.650 an ounce, registering a weekly loss of 12 cents or 0.6%. Its highest point of $19.370 was reached on Monday while its lowest price was on Thursday at $18.380. London silver then swung 27 cents higher Friday as it followed gold.
"There is a total lack of confidence in fiat currencies. So, people chose to take money to safer haven which is primarily gold and silver, which tend to do better than most other commodities in retaining their value in times of crisis," Michael Daly, gold specialist at Chicago-based futures broker PFGBest, was quoted on Reuters.
In silver bullion coin news, the United States Mint published American Silver Eagles sales of 2,533,500 as of June 24, bringing this year's total to 17,701,000. That is well on the way to smashing the 2009 annual record of 28,766,500. However, it currently looks like June sales will not surpass those from May, which were the highest monthly numbers since 1986.
For more information, to include the latest U.S. Mint numismatic silver coins sales, read the SilverCoinsToday.com article US Mint Sales: Silver Eagles Sail.
Precious metal weekly prices follow from New York and London follow:
New York Futures Precious Metal Prices

August Gold

July Silver

July Platinum

September Palladium

6/18/2010
1258.30
19.184
1587.00
491.40
6/25/2010
1256.20
19.110
1570.40
477.90
New York Futures Weekly Changes

Up

Down

% Change

Gain/Loss

Silver
X

-0.4%

-$0.074

Gold
X

-0.2%

-$2.10

Platinum
X

-1.0%

-$16.60

Palladium
X

-2.7%

-$13.50
London Fix Precious Metal Prices

Gold

Silver

Platinum

Palladium

AM

PM

AM

PM

AM

PM

6/18/2010
1244.00
1256.00
18.770
1571.00
1578.00
478.00
484.00
6/25/2010
1242.50
1254.00
18.650
1557.00
1556.00
472.00
471.00
London Weekly Bullion Changes

Up

Down

% Change

Gain/Loss

Silver
X

-0.6%

-$0.12

Gold
X

-0.2%

-$2.00

Platinum
X

-1.4%

-$22.00

Palladium
X

-2.7%

-$13.00
For daily prices, check out the silver spot price page.