Silver Soars to $19.95, Hits Highest Price Since 2008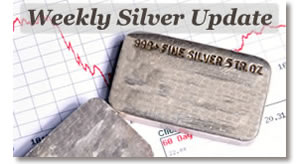 U.S. silver prices on Friday closed at their highest level since March 2008, capping two straight weeks of gains. The metal soared 4.8% this week in New York after surging 5.8% last week.
Silver as "the poor man's gold" easily outperformed the yellow metal. In fact, the gold to silver ratio is at the lowest point since May, with 62.7 ounces of silver now needed to buy one ounce of gold. That compares to last week's ratio of 65.02.
On Friday, December silver finished at $19.949 an ounce on the Comex in New York. It reached an intraday high earlier in the day of $19.985 an ounce.
"Silver ETF supporters have been conspicuously absent this year relative to the significant ETF creations in the other precious metals," wrote UBS precious metals strategist Edel Tully in a note last week. "This less-speculative element to silver's rally, and the relatively sticky nature of ETF investment, suggests that silver may now have a bit more staying power compared to previous run-ups this summer."
Silver rallied 91.0 cents on the week. The metal's lowest closing price was hit on Wednesday at $19.393 an ounce, dipping 4 cents from the prior day which closed out the month of August with a gain of 7.9%. Silver fell 3.8% in July.
"Silver appears to periodically be the leadership market in the metals complex, with silver at times seemingly rotating between a flight to quality focus and its physical commodity market standing," wrote Nell Sloane early Friday via StockMarketsReviews.com. "In other words, silver seems to be getting buying interest from macro economic uncertainty, but at times this week silver has seen some buying interest off hope that the economy is holding together."
Nell added that "the bull camp would generally seem to be emboldened by this week's action, but the bear camp is pointing out the fact that this week's gains were made off lower volume than the volume that was seen in the face of the silver gains that were forged in late August."
The London silver Fix price was $19.660 an ounce on Friday — the highest level of the week. Its $18.870 an ounce low point was registered on Tuesday. London weekly prices ended up 63 cents, or 3.3%, versus the prior week's gain of 89 cents, or 4.9%.
Since last week, bullion American Silver Eagle coins picked up by 545,000 to close out the month of August with sales of 2,4514,000. That marks the second lowest monthly level this year. However, 2010 Silver Eagles have been on a fiery, record pace with year-to-date sales already at 23,600,500. The eagles scored their best ever annual sales of 28,766,500 last year — a level that should easily get topped this year.
The United States Mint has not yet published eagle sales figures for September, although orders were almost certainly placed by its authorized dealers.
Bullion weekly price charts for New York and London follow:
New York Futures Precious Metal Prices

December
Gold
September
Silver
October
Platinum
September
Palladium
8/27/2010
1237.90
19.039
1537.00
503.05
9/3/2010
1251.10
19.949
1561.10
531.45
New York Futures Weekly Changes

Up
Down
% Change
Gain/Loss
Silver
X
4.8%
$0.91
Gold
X
1.1%
$13.20
Platinum
X
1.6%
$24.10
Palladium
X
5.6%
$28.40
London Fix Precious Metal Prices

Gold
Silver
Platinum
Palladium
AM
PM
AM
PM
AM
PM
8/27/2010
1234.50
1235.00
19.030
1530.00
1530.00
500.00
503.00
9/3/2010
1252.00
1240.50
19.660
1555.00
1553.00
526.00
524.00
London Weekly Bullion Changes

Up
Down
% Change
Gain/Loss
Silver
X
3.3%
$0.63
Gold
X
0.4%
$5.50
Platinum
X
1.5%
$23.00
Palladium
X
4.2%
$21.00