Silver Hits New 30-Year High, Prices Surge 12.6% in October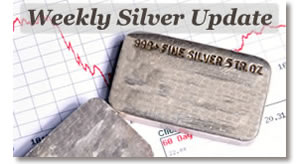 U.S. silver prices hit a fresh 30-year high on Friday, capping a weekly increase of 6.3 percent and an October rally of 12.6 percent.
Precious metals moved as group this week, supported by expectations that the Federal Reserve will attempt to stimulate the economy with another round of quantitative easing. Bull camps opined that further easing will weaken the U.S. dollar and further boost the appeal of commodities like silver.
New York silver futures for December delivery rose 68.9 cents, or 2.9 percent, to close at $24.564 an ounce. The metal's only decline this week, a hard drop on Wednesday, was attributed to concerns that the Fed would choose a more measured approach.
New York Silver Daily Gains/Losses

Monday
Tuesday
Wednesday
Thursday
Friday
$0.426
$0.286
-$0.426
$0.471
$0.689
The direction(s) the Fed takes will be announced after the close of the FOMC meeting on Wednesday.
Silver's weekly $1.446 increase was its best since mid-February. The aforementioned 12.6 percent rise in October was the best in a streak of three monthly gains. Silver rose 12.3 percent in September and 7.9 percent in August. The metal is up 46 percent in 2010.
The precious metal also outperformed gold, trimming the silver-to-gold ratio to 55.27 — a significant difference as compared to last Friday when 57.32 ounces of silver were needed to buy one ounce of gold.
Are silver prices being manipulated? Debbie Carlson and Daniela Cambone of Kitco News write about how the "U.S. Commodity Futures Trading Commission is seeking to draft new regulations to stop market manipulation." In their article entitled Analyst-Trader Survey Indicates Silver Manipulation Is In The Eye of the Beholder, one of the many interesting quotes is by Leonard Kaplan, president of Prospector Asset Management in Chicago.
"Ben Franklin said people who can keep a secret are dead. The idea that there is a long-term conspiracy is ridiculous. In the short-term yes, there is, but there are a lot of ways of doing it. If silver is trading at $5 and Chase comes in and says they want to buy it at $4.99, what happens to the price? It goes up because people want to get in ahead of Chase. Is it manipulation? Yes. Is it legal? Yes. It all depends on how you define manipulation and that can get a little scary.

Silver can get manipulated like anything else. If ADM, one of the largest grain firms in the world, goes into the corn pit and starts selling, what happens? The price goes down. Other people might sell because they think ADM knows something. If the Fed raises interest rates it's manipulating the stock market.

But to think that bankers are meeting in a smoke-filled room with the Abominable Snowman and the bogeyman is just ridiculous. Banks can't be naked short. They're highly regulated. Can they be a little short? Yes. Can they be a little long? Yes."
London silver prices surged as well. The silver Fix was $23.96 an ounce — the highest level of the week. Silver prices gained 91 cents, or 3.9 percent, since last Friday and are up 8.6% for October. More amazing, prices are 41 percent higher than the Dec. 31, 2009, fixing of $16.99 an ounce.
U.S. Mint authorized dealers have not refilled their inventory of 2010 Silver Eagle bullion coins for several days, according to the latest US Mint sales. The silver coins last advanced on Monday, bringing their numbers up 250,000 this week. Their 2010 total of just over 28 million is 686,000 away from matching the annual record set in 2009.
2010 American Eagle Silver Coin Sales
Prior Weekly Gain
Current Weekly Gain
October 2010
2010 Total
Bullion 1 oz
725,000
250,000
2,600,000
28,080,500
Bullion weekly price charts for New York and London follow:
New York Futures Precious Metal Prices

December
Gold
December
Silver
January
Platinum
December
Palladium
10/22/2010
1325.10
23.118
1675.10
591.10
10/29/2010
1357.60
24.564
1707.10
645.10
New York Futures Weekly Changes

Up
Down
% Change
Gain/Loss
Silver
X
6.3%
$1.446
Gold
X
2.5%
$32.50
Platinum
X
1.9%
$32.00
Palladium
X
9.1%
$54.00
London Fix Precious Metal Prices

Gold
Silver
Platinum
Palladium
AM
PM
AM
PM
AM
PM
10/22/2010
1319.00
1322.50
23.05
1661.00
1673.00
583.00
586.00
10/29/2010
1336.75
1346.75
23.960
1683.00
1700.00
629.00
640.00
London Weekly Bullion Changes

Up
Down
% Change
Gain/Loss
Silver
X
3.9%
$0.91
Gold
X
1.8%
$24.25
Platinum
X
1.6%
$27.00
Palladium
X
9.2%
$54.00