Silver Prices Soar to 30-Year High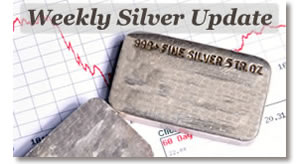 Silver soared this week and closed at its best price in three decades.
U.S. silver prices climbed with each succeeding day this week, with the highest intraday level coming in at above $21 an ounce on Friday. Prices reached an intraday low of below $20 an ounce just once, and that was on Monday.
On Friday, December silver ended up 4.5 cents to $20.816 an ounce on the Comex in New York. The closing price was the highest since October 16, 1980.
"The last few months, silver has been benefiting as a monetary metal like gold, when things are looking bad, and as an industrial metal when things are looking good," precious metals strategist Matthew Turner of Mitsubishi Corp said and was cited on Reuters.
For the week, silver prices soared 97.1 cents, or 4.9%. In contrast, silver lost 10.4 cents, or 0.5%, last week.
Gold rose as well this week, but at a smaller 2.5% which resulted in a lower gold to silver ratio of 61.4. That compares to last Friday's ratio where it took 62.8 ounces of silver to buy one ounce of gold.
"We can expect to see the gold/silver ratio continue to decline and that the precious metals will probably continue, on balance, to advance," said Dennis Gartman, publisher of the widely followed The Gartman Letter. "And we'll get an inkling that the bull market in precious metals is ending when we have several days when prices are going up and gold actually begins to gain upon silver. That would be a signal to be concerned that you're getting close to the end of the bull move."
The London silver Fix price was $20.850 an ounce on Friday — the highest point of the week, rising 95 cents, or 4.8%, for the week after climbing 24 cents, or 1.2%, last week.
Despite higher silver prices, United States Mint bullion American Silver Eagle coins continue to drag. Just 70,000 were purchased since last week, marking one of the slowest weeks of 2010. With more than half of the month already over, the US Mint has sold just 390,000 of the silver coins in September. Year-to-date sales remained under 24 million, at 23,990,500.
Bullion weekly price charts for New York and London follow:
New York Futures Precious Metal Prices

December
Gold
December
Silver
October
Platinum
December
Palladium
9/3/2010
1251.10
19.949
1561.10
531.45
9/10/2010
1246.50
19.845
1542.50
519.85
New York Futures Weekly Changes

Up
Down
% Change
Gain/Loss
Silver
X
-0.5%
-$0.104
Gold
X
-0.4%
-$4.60
Platinum
X
-1.2%
-$18.60
Palladium
X
-2.2%
-$11.60
London Fix Precious Metal Prices

Gold
Silver
Platinum
Palladium
AM
PM
AM
PM
AM
PM
9/3/2010
1252.00
1240.50
19.660
1555.00
1553.00
526.00
524.00
9/10/2010
1248.75
1246.50
19.900
1552.00
1545.00
523.00
518.00
London Weekly Bullion Changes

Up
Down
% Change
Gain/Loss
Silver
X
1.2%
$0.24
Gold
X
0.5%
$6.00
Platinum
X
-0.5%
-$8.00
Palladium
X
-1.1%
-$6.00