Silver Prices Soar in April 2010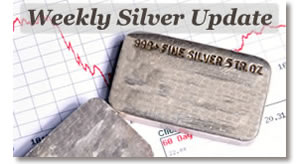 Silver prices soared during the month of April, rising 6.4% in both London and New York. The metal rallied late in the week after retreating earlier despite soaring gold prices. Silver typically follows gold.
However, while gold was lifted as a safe-haven investment over concerns of widening sovereign debt issues in Europe, those same issues placed downward pressure on industrial metals like silver, platinum and palladium.
Silver's turnaround began on Thursday, and held through Friday — encouraged by upbeat U.S. economic data. New York silver for July delivery finished at $18.639 an ounce, rising 45 cents, or 2.5 percent for the week and ending up $1.11 in April.
The London Silver Fix closed Friday to $18.620 an ounce, surging 73 cents or 4.1% for the week. It jumped $1.12 in April.
For two quotes of the week:
"Investors should be careful not to get caught up in the macroeconomic trends that have pushed silver higher," said Dr. Jeffrey Lewis via SilverSeek.com. "Although industrial demand for silver has waned through the recession, it will stage a comeback and likely drive silver higher than inflation. The drivers of growth behind silver are mostly in the form of industry and electronics, which act to reduce the amount of available silver, while the amount of demand continues to increase."
Silver's negative move has "contradicted a number of crystal ball-gazers who had prognosticated a move several order of magnitude higher than gold's — when 'things get going.' Evidently, not," wrote Jon Nadler, senior analyst at Kitco Metals, Inc. "Or, at least not quite yet. The industrial demand and risk asset trade components of that metal appear to outweigh its fast-fading monetary attributes of yesteryear."
London precious metal weekly prices follow:
London Fix Precious Metal Prices

Gold

Silver

Platinum

Palladium

AM

PM

AM

PM

AM

PM

4/23/2010
1140.00
1139.50
17.890
1733.00
1725.00
560.00
555.00
4/30/2010
1175.25
1179.25
18.620
1737.00
1738.00
551.00
552.00
London Weekly Bullion Prices

Up

Down

% Change

Gain/Loss

Silver
X

4.1%

$0.73

Gold
X

3.5%

$39.75

Platinum
X

0.8%

$13.00

Palladium
X

-0.5%

-$3.00