Silver Prices Soar for Second Straight Week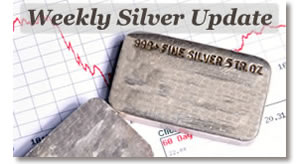 Silver prices surged for a second consecutive week, capping a 10.9% gain in New York and a more modest 5.7% increase in London since June 4.
In weekly increases, the metal was just below the rallying levels of last week.
U.S. silver jumped 5.2% as compared to the 5.4% increase during the prior week. New York silver futures for July delivery ended at $19.184 an ounce, advancing 95.3 cents from last Friday. Its intraday high was $19.275 an ounce.
The London silver fix ended at $18.770 an ounce, marking a weekly pick up of 46 cents or 2.5%. It finished Friday at its topmost point.
Neil Sloan on StockMarketsReview.com noted that silver market "seems to have been lifted consistently by the flight to quality or safe haven argument. At yesterday's highs, July silver was trading as much as $1.68 an ounce above the early June low and that suggests the flight to quality argument has been well attended." Adding that "silver seemed to benefit from patently weak US economic data this week."
ScotiaMocatta said in a note cited on Reuters that "if both gold and silver continue to improve, we expect silver to outperform, thus moving the gold-silver ratio lower."
Th gold to silver ratio is at its lowest level since late May, with 1 ounce of gold buying 65.6 ounces of silver.
London precious metal weekly prices follow:
London Fix Precious Metal Prices

Gold

Silver

Platinum

Palladium

AM

PM

AM

PM

AM

PM

6/11/2010
1220.50
1220.00
18.310
1542.00
1539.00
451.00
449.00
6/18/2010
1244.00
1256.00
18.770
1571.00
1578.00
478.00
484.00
London Weekly Bullion Prices

Up

Down

% Change

Gain/Loss

Silver
X

2.5%

$0.46

Gold
X

3.0%

$36.00

Platinum
X

2.5%

$39.00

Palladium
X

7.8%

$35.00
For daily prices, check out the silver spot price page.