Silver Prices Rally for Fifth Straight Week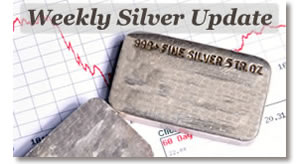 U.S. silver prices have registered gains for five straight weeks. The metal not only continues to rise, but it has also outperformed gold and platinum by huge margins.
On Friday, silver futures for December delivery retreated for the second time this week, dipping 14.7 cents, or 0.6 percent, to settle at $24.288 an ounce on the Comex in New York. Silver prices reached their highest level on Thursday, falling just 5 cents shy of $25 an ounce — a fresh 30-year high.
For the week, silver rallied $1.183, or 5.1%, after surging 4.7 percent last week. More impressively, New York silver has soared 44 percent this year.
And now, for a longer than normal quote of the week, which includes cautious overtones for silver investors as opined Friday morning by Jon Nadler, senior analyst at Kitco Metals, Inc.
"We might as well point out the other cautionary tale that has made its way into the news flows overnight: the one concerning "poor man's gold." Reuters' Jan Harvey warns that latecomers to the silver party "would be well advised to be wary of seeing the precious metal purely as a cheaper proxy for its yellow cousin." In other words: 'poor man's gold?' Not quite.

With the silver-to-gold ratio shrinking to 57-to-one, many see a new paradigm for the former. However, while industrial demand for gold is perhaps around the 15-17 percent level, the offtake by that sector is more than 40 percent for the silver.

As is certainly the case with gold, the latest incremental increase in silver's value has come from the category labeled as 'investment,' and not from basic, underlying, fabrication-type demand. ETF holdings in the metal are near 14,200 tonnes — in a market that normally sees 19,500 tonnes of total fabrication demand and is running an estimated 6,600 tonne surplus in the current year.

Our good friend, HSBC analyst James Steel, argues that, while industrial demand might warrant sustainable $15 or so silver, it cannot account for the push to 20 or 25 dollars. It is a smaller and less liquid market than that for gold, and is historically more susceptible to 'overshoots' (in either direction) than the yellow metal. Thus, a serious 'correction' in gold could spell 'grave' declines in silver."
Silver has outperformed gold for a fifth consecutive week, trimming the silver-to-gold ratio by Friday's afternoon close even further, at 56.49. That compares to last Friday's ratio when it took 58.23 ounces of silver to buy one ounce of gold.
In London silver prices, the PM Fix Friday was $24.42 an once, the second highest price this week — 7 cents lower than Thursday. For the week, London silver surged $2.050, or 9.2 percent. The metal gained 1.9 percent last week. It is up an astounding $7.43, or 43.7 percent, for the year.
The U.S. Mint sold more American Eagle silver coins this week than last, with sales more than doubling at 875,000. Another week of similar demand will place October sales above September and August. Two weeks of the same pace will make 2010 the best year ever for the silver coin series which was introduced in 1986.
U.S. Mint Sales: 2010 American Eagle Silver Coins
Prior Weekly Gain
Current Weekly Gain
October 2010
2010 Totals
Bullion 1 oz
425,000
875,000
1,625,000
27,105,500
To check out how silver prices have affected melt values of silvers coins from around the world, visit the SilverCoinsToday.com page Coin Melt Calculators which offers links to various melt calculators.
Bullion weekly price charts for New York and London follow:
New York Futures Precious Metal Prices

December
Gold
December
Silver
January
Platinum
December
Palladium
10/8/2010
1345.30
23.105
1708.70
587.60
10/15/2010
1372.00
24.288
1695.40
589.20
New York Futures Weekly Changes

Up
Down
% Change
Gain/Loss
Silver
X
5.1%
$1.183
Gold
X
2.0%
$26.70
Platinum
X
-0.8%
-$13.30
Palladium
X
0.3%
$1.60
London Fix Precious Metal Prices

Gold
Silver
Platinum
Palladium
AM
PM
AM
PM
AM
PM
10/8/2010
1330.50
1341.50
22.37
1688.00
1683.00
575.00
572.00
10/15/2010
1377.25
1367.50
24.42
1701.00
1691.00
597.00
591.00
London Weekly Bullion Changes

Up
Down
% Change
Gain/Loss
Silver
X
9.2%
$2.05
Gold
X
1.9%
$26.00
Platinum
X
0.5%
$8.00
Palladium
X
3.3%
$19.00