Silver Surges for Second Straight Week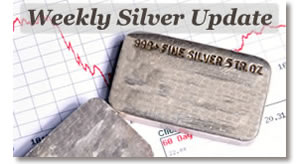 Silver rallied for a second straight week after plunging nearly 20% during the three prior weeks.
New York silver futures surged ahead 6.3% since last Friday while the fix in London boosted the metal by 4.0% during the same time period.
For the most part, and as imparted last week, silver has been following gold's direction which in turn has headed opposite of the U.S. dollar.
For the week, New York silver futures for March delivery ended at $16.413 an ounce, soaring 97 cents. London silver was fixed at $15.95 an ounce, jumping 62 cents.
Commodity Online reports Friday in an article entitled Silver caught in gold/dollar play: "For several months silver has tracked the gold/dollar play; as the US dollar has weakened the gold price has strengthened. But fears over the strength of global economic recovery and EU member state debt burdens has led to a dash for cash not seen since the peak of the financial crisis. We see little else to preoccupy the markets in the short term, and expect silver prices to be extremely volatile on the ebbs and flows of positive and negative data."
London precious metal weekly prices follow:
London Fix Precious Metal Prices

Gold

Silver

Platinum

Palladium

AM

PM

AM

PM

AM

PM

2/12/2010
1078.25
1082.00
15.33
1513.00
1505.00
414.00
416.00
2/19/2010
1107.00
1112.75
15.95
1506.00
1513.00
428.00
435.00
Weekly Bullion Prices

Up

Down

% Change

Gain/Loss

Silver
X

4.0%

$0.62

Gold
X

2.8%

$30.75

Platinum
X

0.5%

$8.00

Palladium
X

4.6%

$19.00
These articles offer precious metals and silver coin news, or related business articles:
For daily silver news and prices, see Spot Silver Prices.