US Mint 2011 Silver Proof Set Issued
The United States Mint today at noon ET issued its second major numismatic product of the year, the 2011 Silver Proof Set.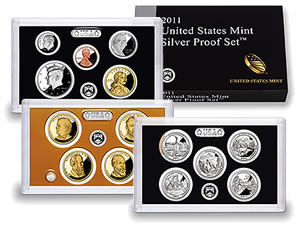 The 14-coin set, which features collector proofs of this year's circulating coins with seven of them composed in 90% silver, is listed on the US Mint website for a price of $67.95. That is $11 more than last year's issue which is still available for $56.95. The cost of silver is substantially more this year, accounting for a big portion of the price increase.
The 2011 Silver Proof Set is one of two silver sets for issue this year that include coins composed of silver, with the other being the 2011 America the Beautiful Quarters Silver Proof Set that the US Mint expects to launch on March 29.
Both issues include this year's quarter-dollars which honor Gettysburg National Military Park in Pennsylvania, Glacier National Park in Montana, Olympic National Park in Washington, Vicksburg National Military Park in Mississippi and Chickasaw National Recreation Area in Oklahoma.
The 2011 Silver Proof set also includes the four Presidential dollars honoring Presidents Andrew Johnson, Ulysses S. Grant, Rutherford B. Hayes and James Garfield, as well as the Native American dollar, Kennedy half-dollar, Roosevelt dime, Jefferson nickel and the Lincoln cent.
The five America the Beautiful Quarters®, half-dollar and nickel are the 7 coins composed of 90% silver, giving them a combined silver weight of 1.338 ounces. Silver prices have tumbled nearly 14% in January. However, those coins still have an intrinsic value of $35.72 when using Tuesday's PM London Fix price of $26.70 an ounce.
Each of the coins is minted in San Francisco and bear the denoting "S" mint mark.
The silver sets are one of the most popular products the US Mint produces for coin collectors. The latest sales figures as of January 23, 2011, have last year's issue at 526,225.
The first major product the US Mint issued for collectors this year was the 2011 Proof Set. It includes the same coins as the just released silver set but they are instead minted in a clad composition.
The sets may be purchased directly from the US Mint website (http://www.usmint.gov/) or through its toll free number 1-800-USA-MINT (872-6468). There are no order limits in place.