US Mint Deletes 2010 Silver Eagle Proof Coin Orders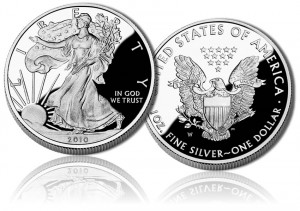 The US Mint today announced that it accidentally deleted a portion of early orders for its recently released 2010 American Silver Eagle Proof Coins.
The Mint is still investigating the matter, but indications point to a system overload during the peak hour customers were hitting its website to order the new 2010 Silver Eagle Proof.
The coins launched on Friday, November 19 at Noon Eastern Time. The US Mint estimates 2700 online orders were deleted beginning about two hours later and lasting until around 3:00 PM. Approximately 2200 of those were orders for the Silver Eagle Proof Coin.
"Only Internet orders appear to have been affected. No telephone orders were impacted," noted the US Mint statement.
The US Mint has been contacting customers who may have been affected and is advising them to resubmit their order by telephone at 1-800-USA-MINT (872-6468). For their hassle, the Mint is offering priority handling and free next day shipping.
The 2010 Silver Eagle Proof coin enjoyed a sizable sales debut, underscoring how many orders were placed in such a short period of time. US Mint recorded sales of 273,212 between their Friday release through to the following Sunday. More than 35,000 of those came from its online store.
This year's Silver Eagle has already had a storied life. Following the cancellation of the 2009 version, pent up demand had been building for the next release. Customers learned only in October that the 2010 Silver Eagle Proof coin would be minted and issued. Then it was only two weeks ago when about 100,000 US Mint subscription customers were told in emails that their Silver Eagle Proof order was on backorder and then cancelled. Fortunately, these customers soon learned that the emails were sent in error and the silver coins did not sell out.
The latest US Mint error will amplify the excitement and the relief of actually receiving the Silver Eagle Proof coin.
The proof is the final collector silver coin to be issued in 2010. The Mint will distribute five bullion America the Beautiful Silver coins before this year ends. These coins are nearly double the size of the Silver Eagle, weigh five ounces and have a diameter of three inches. Aside from the size and edge inscriptions, the coins are identical to the five 2010 America the Beautiful Quarters®.