US Mint Issues Statement on Five Ounce Silver Coin Varieties and Finishes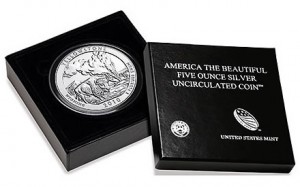 Varying finishes on the America the Beautiful Five Ounce Silver Uncirculated Coins have been confirmed by the United States Mint in a statement issued Wednesday morning.
This came following coin collector reports and after NGC announced the discovery of a 2010-P Grand Canyon five ounce silver coin variety with a "Light Finish" and the 2010-P Yellowstone five ounce silver coin error "With Unfinished Reverse."
The United States Mint applies a vapor-blasting process to the collector five ounce silver coins after they are struck with their designs to give them a special matte finish. The Mint explained that the equipment being used for the process was retrofitted from what was originally designed for 3-inch medals. The bureau indicated that they are re-evaluating their methods and intend to prevent inconsistent finishes with new equipment.
The full statement from the United States Mint is below:
"From photographs we have received, and reports from coin grading services, it is apparent that several varieties of America the Beautiful Five Ounce Silver Uncirculated Coins exist with differing or missing vapor blast finishes. We are looking into the cause of the inconsistency in finishes, examining each step in the post-production process when vapor blasting is applied. We are committed to restoring the consistency for which United States Mint products are known worldwide.

While we have ordered new equipment to execute automated vapor blasting on the America the Beautiful Five Ounce Silver Uncirculated Coins, we are currently using the process originally used for our 3-inch medals. That equipment required retro-fitting and readjustment for the process, and has required additional maintenance due to the higher volume and substantially increased wear of this program.

The new equipment will allow us to move from the manual, batch process to more closely integrate the vapor blasting application into the overall production line for the coin."
NGC's Error and Variety Discoveries During Coin Grading
The most recently published discovery concerned a 2010-P Yellowstone National Park Five Ounce Silver Uncirculated Coin error.
It is clearly missing the collector matte finish on its reverse, as the image of Yellowstone's Old Faithful Geyser and mature buffalo was shiny and brilliant. The obverse, featuring George Washington's portrait, received the finish from the vapor-blasting process.
NGC also identified a 2010-P Grand Canyon National Park Five Ounce Silver Uncirculated Coin variety.
The coins have collector finishes on them, but certain ones have a slightly reflective and lighter satin finish, as opposed to the standard coarse matte finishes found on other coins in the United States Mint America the Beautiful Five Ounce Silver Coin series.
NGC designated the unusual finish as "Light Finish" and will indicate so on labels for qualifying coins when collectors submit their coins under the VarietyPlus service.