US Mint Silver Coin Sales Lower, Silver Eagles Flying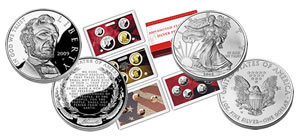 US coin sales are usually mixed with both ups and downs when comparing week-over-week performances. Not so for last week. Sales declined for all US Mint collector silver coin and set offerings.
However, in what could be a hint for next week's collector coin numbers, bullion silver coins (non collector versions) have been blistering hot. 2009 Silver Eagle sales neared 15 million on Monday, falling shy of the threshold by just 100,500. By Tuesday, the goal was less than 51,000 away. And by Wednesday total sales of the bullion coin jumped over the 15 million barrier.
An impressive 1,625,000 have been sold during the first 15 days of this month alone, reaching a new grand total of 15,499,500. If the pace continues, July will end up as the best month for the coins this year.
The following table has the latest US Mint stats for collector silver coins and sets.
U.S. Mint Silver Collector Coin Sales Stats
(Sales compare previous to current Mint figures)
Previous Sales

New Sales

Unit Increase

% Increase

Mintage Limit

2008 American Eagle Silver Dollar Proof*

713,353

713,353

0

0.00%

none

2008 American Eagle Silver Dollar Uncirculated*

444,558

444,558

0

0.00%

none

2009 Lincoln Silver Proof*
325,000
325,000
0
0.00%

500,000

2009 Lincoln Silver Uncirculated*
125,000
125,000
0
0.00%
2009 Braille Silver Proof
113,400
113,922
522
0.46%
400,000
2009 Braille Silver Uncirculated
42,703
42,832
129
0.30%
Braille Uncirculated in Easy-Open Capsule
18,262
18,301
39
0.21%
2009 Quarters Silver Proof Set
207,114
210,436
3,322
1.60%
none
2008 Annual Uncirculated Dollar Coin Set
68,956
69,593
637
0.92%

none

2008 U.S. Mint Silver Proof Set
772,893
774,874
1,981
0.26%

none
*Coin products with an asterisk are no longer available. July 12 is the "as of date" for the most recent US Mint figures.
The previous reported sales figures are located at Silver Coins and Set Demand Declines. The Silver Coins Today tool page Mint Prices & Sales has been updated with the latest Mint sales figures.