US Mint Silver Product Sales Slow, Eagles Idle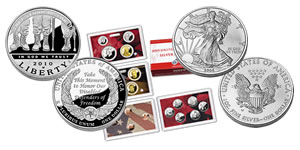 The latest round of United States Mint weekly sales figures show demand has decline for all silver coins and sets.
Given that silver prices were mostly unchanged last week and have fallen this week, it's not too surprising that sales of bullion American Silver Eagles would slow. However, the numbers go below slow. The US Mint has not reported a single new eagle sale since March 15, 2010. That is surprising.

The 2009 US Mint Silver Proof Set and the 2009 DC & US Territories Quarters Silver Set had respective weekly increases of 1,437 and 493. The prior report had better gains of 2,751 and 613.
2010 Disabled American Veterans (DAV) Silver Dollars reached 166,368. The proofs rose 9,098 and the uncirculated coins picked up 3,334. Going forward, the coins will have competition. The Boy Scouts Silver Dollars were issued on Tuesday, and early indicators are that they have enjoyed extremely robust sales.
The following tables provide the latest sales breakouts:
US Mint Numismatic Silver Coins Sales
(Sales compare previous to current Mint figures)
Previous Sales

New Sales

Unit Increase

% Increase

Mintage Limit

2010 American Veterans Disabled for Life Silver Dollar Proof
107,316
116,414
9,098
8.48%
166,368 of 350,000
2010 American Veterans Disabled for Life Silver Dollar Uncirculated
46,620
49,954
3,334
7.15%
2009 US Mint Silver Proof Set
666,344
670,532
1,437
0.21%
none
2009 Quarters Silver Proof Set
274,028
275,134
493
0.18%
none
Sunday, March 21, 2010, is the "as of date" for the US Mint collector coin sales figures shown above.
American Silver Eagle Bullion Coin Sales: March 2010
| | | | | |
| --- | --- | --- | --- | --- |
| Mar 3 | Mar 10 | Mar 15 | Mar 24 | Mar 31 |
| 425,000 | 1,175,000 | 1,900,000 | 1,900,000 | – |