2009 Austria Silver Philharmonic Coin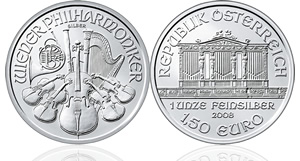 Introduced to the world for the first time in 2008 at the World Money Fair in Berlin, the Austria Silver Philharmonic Coin continues a successful run in 2009. Originally only available in gold, the Austrian Mint started producing the philharmonic in silver to meet the international demand for silver bullion coins.
This introduction marked the first time ever a silver bullion coin had a face value in Euros. And who better to be the ground-breaking producer than the world renowned Austrian Mint.
With a legacy that dates back over 800 years (and is reported to indirectly owe its beginnings to Richard I of England, called Richard the Lionheart), the Austrian Mint has produced some of the finest coins through the years. The Philharmonic is no exception.
Silver Philharmonic specifications and design
Crafted from one troy ounce of 99.9% fine silver to precise detail, the philharmonic has a diameter of 37 mm and a thickness of 3.2 mm.
The silver philharmonic is nearly identical to its' gold counterpart, but comes with a face value of 1.5 Euros, among a few other slight differences.
The obverse of the coin showcases the great organ in the Vienna's Golden Concert Hall (Musikverein) where the Vienna Philharmonic is based. Inscribed above the organ is "Republik Osterreich" (Republic of Austria), "1 Unze Feinsilber" (One Ounce Fine Silver), "2009" and "1.50 Euro".
The reverse features a collection of instruments used in the orchestra, a cello, four violins, a Vienna horn, bassoon and a harp. It is the same design that is featured on the gold philharmonic. Above the instruments is the inscription "WIENER PHILHARMONIKER" (Vienna Philharmonic).
The Vienna Philharmonic has been producing premier music for over 150 years, and this silver philharmonic is an excellent tribute to that level of quality!
These coins are already known throughout the world despite their relative youth and are available from many coin dealers, sellers and precious metal suppliers. For a listing of current Philharmonic silver coin auctions on eBay, check out:
Austria Silver Philharmonic Coins
Prices for the coin are generally several dollars higher than the current spot silver price.
Philharmonic Silver Coin image