Austria 20-Euro Empress Elisabeth Railway Silver Commemorative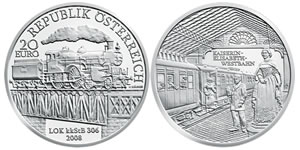 The Austrian Mint's fourth coin in its Austria Railways commemorative 20-euro silver series is another gorgeous addition. While the photo speaks to something special, it does not do full justice to the proof coin itself, which is amazingly crafted and richly detailed.
The silver coin commemorates the Empress Elisabeth West Railway, which ran from Vienna to Salzburg in the 19th Century.
The eye-catching obverse features locomotive 306 steaming across an iron bridge. Directly above is the inscription "Republic of Austria" and the denomination of 20 Euro. Under the railway is the name of the locomotive, kkStB 308, and the 2008 year of issue.
The reverse is absolutely remarkable. The scene depicts a just arrived train underneath the grand entrance hall of the West Railway Station in Vienna during the 19th Century. Passengers are glimpsed through train windows readying to leave as a well-dressed lady steps toward the platform. Already waiting is a railway official with a pose of assistance. To the right is the statue of the Empress Elisabeth, whose name graces the line.
The Austrian Mint's Helmut Andexlinger and Thomas Pesendorfer did a fantastic job in design. Without a doubt, this is a leading 2008 world silver coin worth owning.
The coin is currently priced at €37.95, or about $52. There is an additional shipping charge. The total time from order to delivery (Austria to Texas, USA) took about 3 weeks. It arrives in an attractive box, along with a non-English specification card and pamphlet describing the coin and the history it commemorates. All of the Austria Railway coins may be ordered through the Austrian Mint website.
The piece is in proof finish, has a purity of 0.90 silver, a diameter of 34.0 mm, weighs 18.0 grams and is limited to a total of 50,000 coins.
The Austrian Railway series ends in 2009 with the release of the final two 20-euro silver coins, "The Electric Railway" in June, and "The Railway of the Future" in September.