2009 Canadian $20 Silver Proof Coin Honors Coal Mining Trade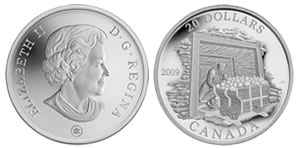 The Royal Canadian Mint on Friday launched a series of new 2009 collector coins, including its second silver issue in the Historical Commerce Collection honoring the Coal Mining Trade.
The proof $20 Coal Mining Trade Silver Coin features an attractive and detailed reverse design, by artist John Mardon, depicting a miner pushing a heavy load of coal from the entrance of a mine.
The Royal Canadian Mint's Web site provided the following coal mining historical information, which reflects the importance of the symbolic coin:
In Canada, it was the late 1600's when the reserves of coal along the east coast first came to light. Visible in the outcroppings of cliffs along the shoreline, the valuable fuel source was easy pickings for the French military and early settlers.

Authorities soon realized a potential source of wealth lay in the ground beneath them and opened the first commercial coal mine in 1720 in Port Morien (Cow Bay) in Cape Breton (Nova Scotia). Four years later, coal was shipped to Boston; the first recorded mineral export from Canada. By 1873, there were eight coal companies operating in the region. Theirs were some of the most extensive mining operations in the world.
The coin is struck in 99.99 percent pure silver, weighs 31.39 grams, has a diameter of 38 millimeters, features a serrated edge and is limited to 10,000 worldwide.
Pricing and order information
The fine silver coin is currently priced at:
For more information or to place online orders, visit the Royal Canadian Mint product page:
$20 Fine Silver Coin – Coal Mining Trade (2009)
A stunning $200 gold version limited to just 4,000 coins is also available from the Mint for a price of $697.95. The product page is located at:
$200 Gold Coin – Coal Mining Trade (2009)
Large design images of the 2009 Coal Mining Trade silver coin from the Royal Canadian Mint follow: