2009 Canadian Maple Leaf Silver Coin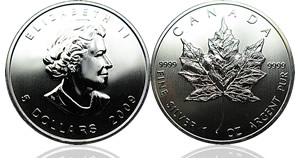 Unmatched by purity, an elegant design and sought after by many, the Canadian Silver Maple Leaf is a unique bullion coin that has been around since 1988.
The coin owes its birth to the Gold Maple Leaf, which was launched in 1979. The world popularity of the gold coin soon convinced the Royal Canadian Mint to introduce the Silver Maple Leaf, which has become a mainstay coin for both investors and collectors.
One troy ounce of .9999 fine silver is used for each coin, making it the purist content legal tender coin in the world. This purity is guaranteed by the Canadian government as well as the weight and content. The face value of the maple leaf is CAN $5, but the value of the silver it contains dictates the coin's price.
As a bullion product, these silver coins are designed for investors, however their beauty has made them a must for many collectors. Demand is extremely strong and millions are minted each year.
Coin specifications and design
Required of all legal tender coins in Canada, the obverse contains an image of Queen Elizabeth II. Also shown are the inscriptions "Queen Elizabeth II", "5 Dollars" and "2009."
Iconic of Canada, an image of a maple leaf has been present on the coins since their introduction. A few past years had special marks added to them to celebrate special events. The 2009 coin contains the inscriptions "Canada", "9999", "Fine Silver", "1 oz " and "Argent Pur."
These coins are available through many channels, although they are not sold directly by the Mint to the public. For a listing of current auctions on eBay, check out:
Prices for the coin are generally a few dollars more than the current silver spot price.
[phpbay]2009 Silver Maple Leaf, 4, "", ""[/phpbay]
Silver Maple Leaf Coin image