2009 Mexican Libertad Silver Coin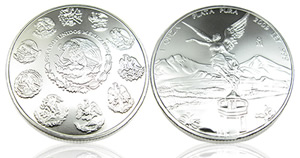 The Mexican Libertad Silver Bullion Coin is produced by the oldest mint in the western hemisphere. The Libertads themselves originally appeared in the 1940's, but were not minted for several years, reappearing annually since the 1980's.
Viceroy Antonio de Mendoza started the Mexican Mint under a royal decree from Spain in 1535, making it the first official mint in the new world. It has served the people of Mexico ever since and the coins it produces are known world-wide.
Libertads have always incorporated a winged female design on their reverse. This female is in reference to the roman goddess Victoria. She was the goddess of victory and was worshipped by triumphant warriors returning from battle.
Modern Libertad coin design
This design was updated in 1996 to reflect the El Ángel de la Independencia ("The Angel of Independence"), which sits atop a victory column on a traffic roundabout in Mexico City. The column was constructed for the 1910 celebration of Mexico's War of Independence and has become one of the most recognizable landmarks in Mexico City
Shown in the background behind the angel are the volcanoes Popocatépetl and Iztaccihuatl. Legend has it that the volcanic mountains were named after a native prince and princess from different tribes who married against the wishes of their people. Banished from their tribes, it is said they lay asleep behind the mountains, waiting to force any invaders from their lands.
Inscriptions on the top of the reverse include the numerical size following by "ONZA" for "ounce", "PLATA PURA" for "pure silver", 2009, "LEY" and ".999".
The obverse of the Libertad shows an eagle battling a snake, which is Mexico's national coat of arms. The coat of arms is surrounded by a wreath as well as the words "ESTADOS UNIDOS MEXICANOS" (United Mexican States). Circling the coin are ten eagle designs that have been used as national emblems in the past.
Libertad specifications and sizes
The Libertads come in several sizes including 5 oz, 2 oz, 1 oz, 1/2 oz, 1/4 oz, 1/10 oz, and 1/20 oz. They are struck in 99.9% fine silver in uncirculated and proof quality. They have a reeded edge and their diameters from the 5 oz. size down to the 1/20 oz. size are: 65.0 mm, 48.0 mm, 40.0 mm, 33.0 mm, 27.0 mm, 20.0 mm, 16.0 mm.
The coins are exceptionally popular, but not all coin and precious metal dealers carry them. For a listing of current Libertad auctions on eBay, check out:
2009 Mexican Libertad Silver Coin
Here are a few more eBay examples:
[phpbay]Mexican Libertad Coin, 4, "", ""[/phpbay]
Prices for the coin are generally several dollars above the current silver spot price, with premiums typically higher than many other modern world bullion coins.
2009 Mexican Libertad Silver Coin image