2011 Silver Eagle Bullion Coins Debut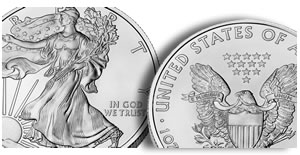 The United States Mint on Monday, January 3, began selling the 2011 Silver Eagle bullion coin through its network of Authorized Purchasers.
Buyers ordered 1,696,000 of the .999 fine bullion coins on the first business day of the year, according to US Mint's published sales figures.
A portion of those sales include 2010-dated Silver Eagle bullion coins. The US Mint has not published how many of last year's issue remain, but has said they will be sold until their inventory is completely depleted.
The new Silver Eagle Bullion Coins are available two weeks before last year's issue. The 2010-dated coins were launched on January 19, which was atypical. Historically, the US Mint would begin producing a new year's issue around November to have them in supply and available for delivery by January. However, enormous demand kept the Mint striking 2009 Silver Eagle bullion pieces until the final day of the year. They were the only silver bullion options available to Authorized Purchasers until they finally sold out on January 12, 2010.
The US Mint does not sell any of its investment-grade bullion products directly to the public. Instead it relies on its network of Authorized Purchasers who buy in bulk and then resell to other coin and precious metals dealers. The US Mint charges the Authorized Purchasers the cost of silver plus a premium of $2.00 per coin.
The numismatic or collector 2011 Silver Eagle Proof Coins are schedule for released by July 6, 2011. A release date for the 2011 Silver Eagle Uncirculated Coins has not been announced. The US Mint will offer these collector coins directly to the public. In addition to the proof and uncirculated finishes, the coins also feature the "W" West Point mintmark. The bullion coins do not.