2012 Silver Eagle Bullion Coin Sales Debut at 3.197 Million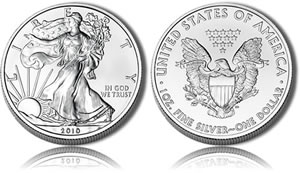 The United States Mint began selling its 2012 American Silver Eagle bullion coins to its network of Authorized Purchasers on Tuesday, January 3, marking the 26th year in the series.
A remarkable 3,197,000 Silver Eagles were ordered on the first business day, according to the Mint's most recent published sales figures. This number is up compared to last year's first day, when 1,696,000 of the .999 fine silver coins were ordered.
A portion of the 3+ million included 2011-dated Silver Eagles since some remained available in the U.S. Mint's inventory at the year-end, according to a memo to the Authorized Purchasers. The older coins are being sold on a 4:1 ratio with the newer ones until they are gone. It has not been announced yet how many were left.
The eruption of this year's bullion sales could explain the lull at the end of last month. Zero coins were reportedly sold in the final week and just 450,000 were scooped up during the week before the Christmas holiday. In all, December 2011 ended with sales of 2,009,000.
The new Silver Eagle bullion coins are available in a similar fashion as last year's issue. The 2011-dated coins also launched on January 3 and also included ordering guidelines to clear out the prior year's leftovers. January 2011 ended with the all-time highest monthly sales record at 6,422,000 and 469,500 of them were 2010-dated versions.
American Silver Eagle bullion coins are investment-grade and are not sold directly to the public by the United States Mint. Instead the Mint relies on its network of Authorized Purchasers, who are required to buy in bulk, to resell the Silver Eagles to other coin and precious metals dealers and the public. The United States Mint charges the Authorized Purchasers the cost of silver plus a $2 premium per coin.
A schedule that includes the collector strikes, the 2012 Silver Eagle Proof Coins and the 2012 Silver Eagle Uncirculated Coins, is not yet available at the time of this writing. The Mint typically offers these numismatic coins later in the year, directly to the public, and with a much larger premium.
In addition to the special proof and uncirculated finishes, the collector versions also feature the "W" mintmark indicating their production at West Point. The bullion coins do not have mint marks, and in 2011 the bullion coins were produced at both West Point and San Francisco mint facilities.