2012 Australian Kookaburra High Relief Silver Coin
Appearing as a new issue from the Perth Mint of Australia is the proof 2012 Australian Kookaburra High Relief Silver Coin. The release marks the first time the Perth has chosen to offer a Kookaburra coin in high relief, although the series itself has a long history.
Kookaburra silver coins were introduced by the Perth Mint in 1990 and are featured annually as bullion products. The most recent 2012-dated coins made their public appearance last September in three different sizes — one ounce, ten ounce and one kilo. Collector grade versions have also appeared from the Perth, although not in the high relief format, as previously mentioned.
Owing to the popularity of the bullion and past collector Kookaburras, this new high relief silver coin is expected to be a hit with collectors, and that will be helped by its limited 10,000 mintage.
Kookaburra Coin Designs and Specifications
The proof Australian Kookaburra High Relief Silver Coin features the same obverse and reverse imagery as found on any of the 2012-dated versions. This includes an obverse portrait of Queen Elizabeth II and a reverse featuring the iconic Kookaburra bird.
The kookaburra design on the reverse of the coin is the work of Perth Mint artist Darryl Bellotti. It features the bird perched on a tree branch with gum leaves flanking the creature. The kookaburra is looking over its left wing with its long beak shown slightly open. Reverse inscriptions include "AUSTRALIAN KOOKABURRA" and "2012 1 oz 999 SILVER."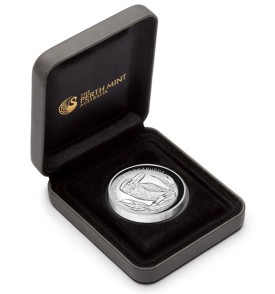 Struck as legal tender of Australia, the coin features an obverse of Ian Rank-Broadley's effigy of Her Majesty Queen Elizabeth II. The portrait of the Queen is surrounded by the inscriptions of "ELIZABETH II," "AUSTRALIA" and "1 DOLLAR."
As indicated by the obverse inscriptions, the coins have a face value of $1. Each is struck from one ounce of 99.9% pure silver and has a gross weight of 31.135 grams. Maximum diameter of the piece is 32.60 mm with a maximum thickness of 6.00 mm.
The Australian Kookaburra High Relief Silver Coin is available now directly from the Perth Mint for AUS $100.00 while the limited mintage of 10,000 lasts. Each ships with a presentation case inside an illustrated shipper showing a colorful picture of a kookaburra. A numbered certificate of authenticity is also included.
Ad Banner to Perth Mint Website for New Coin Releases

About the Perth Mint
The Royal Mint of England established the Perth Mint (www.perthmint.com.au) as a branch facility in 1899 to refine and strike gold recovered from nearby deposits. Ownership was transferred to the State Government of Western Australia in 1970. Today the Perth is responsible for the Australian Federal Government's Gold and Silver Bullion Coin Program in addition to striking some of the most unique numismatic coins in the world.