Sales of US Silver Coins at 4-Month High as Silver Prices Hit 2012 Lows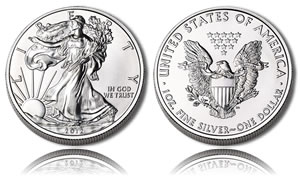 Physical demand for United States Mint silver coins soared this week as silver hit its lowest price of the year.
Silver prices continued to retreat this week, tumbling to new 2012 lows as the white metal moved toward $27 an ounce on Wednesday — $27.196 for July futures in New York and at $27.250 for the London Fix.
During the first three days of the week, U.S. Mint distributors purchased 900,000 bullion American Silver Eagles with sales of:
475,000 on Monday,
150,000 on Tuesday, and
275,000 on Wednesday
Prior to Monday, just 510,000 of the 99.9% pure silver coins had been ordered for May, a month which was tracking to be the worst since February 2008. The gains up through Wednesday lifted the monthly American Silver Eagle total to 1.41 million and brought 2012 sales over the milestone of 13 million.
Silver prices rebounded on Thursday and Friday, with July futures ending the week at $28.715 an ounce and the London fixing for silver at $28.480 an ounce. Bouncing off the 2012 lows did curb Silver Eagle demand as none were sold by the U.S. Mint on Thursday and a more modest tally of 130,000 moved on Friday.
Through the five days, sales of the silver coins totaled 1.03 million — the best weekly gain since the week of January 16, 2012. For the month, Silver Eagles are now at 1.54 million. That already surpasses each of the monthly sales in April and February.
Sales of Bullion American Eagle Silver Coins in 2012
Month
Silver Eagle Sales Total
January 2012
6,107,000
February 2012
1,490,000
March 2012
2,542,000
April 2012
1,520,000
May 2012*
1,540,000
Total
13,199,000
*Figures for the silver coins are as of Friday, May 18, and as published by the U.S. Mint on its website located here.
As for silver prices, the late week gains helped trim weekly losses to a mere 18.0 cents, or 0.6%, for silver futures in New York and 10.0 cents, or 0.3%, for the silver fixing in London.
For reference, this week's precious metals futures prices follow:
New York Precious Metals Futures
Mon
Tue
Wed
Thurs
Fri
Weekly Gain
($/%)
Silver (July futures)
$28.353
$28.08
$27.20
$28.020
$28.715
-$0.18
-0.6%
Gold (June futures)
$1,561.00
$1,557.10
$1,536.60
$1,574.90
$1,591.90
$7.90
0.5%
Platinum (July futures)
$1,442.60
$1,446.50
$1,432.20
$1,453.40
$1,459.30
-$12.10
-0.8%
Palladium (June futures)
$594.85
$601.10
$594.10
$605.85
$603.60
$0.20
0.0%
For reference, this week's London precious metals fixings follow:
London Precious Metals Prices (PM Fixings)
Mon
Tue
Wed
Thurs
Fri
Weekly Gain
($/%)
Silver Prices
$28.33
$28.28
$27.25
$27.48
$28.48
-$0.10
-0.3%
Gold Prices
$1,558.50
$1,556.50
$1,548.50
$1,554.00
$1,589.50
$6.50
0.4%
Platinum Prices
$1,448.00
$1,449.00
$1,427.00
$1,449.00
$1,456.00
-$10.00
-0.7%
Palladium Prices
$602.00
$602.00
$590.00
$602.00
$605.00
$0.00
0.0%