Silver Falls in First June Week, Handing Back Gains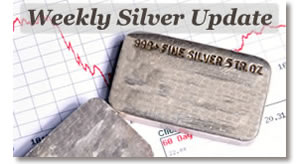 Silver prices plummeted during the holiday shortened first week of June, giving back gains it made in a rallying final week of May.
[May, as it turned out, was a record month for physical ownership of U.S. Mint American Silver Eagle bullion coins. More than 3.6 million were sold. For more, read Silver Eagles Best Since 1986.]
For the week, New York silver futures for July delivery ended down $1.123, or 6.1%, to $17.299 an ounce. Nearly half of its weekly loss came on Friday due to a 63.2 cent plunge.
"Silver took a dive down to $17.6, still above support at $17.50, but demonstrating that this metal is a fine place for traders to be," noted Julian D. W. Phillips of GoldForecaster.com on GoldSeek.com. "We see nothing alarming in this move and see it climbing from this level in New York, simply because the fall was overdone."
The London silver fix ended at its lowest point Friday as well, hitting $17.760 an ounce. The weekly loss came in at 77 cents, or 4.2%. Its high point for the week was on Wednesday at $18.430.
Silver fell the furthest of the precious metals, with the exception of palladium. It was being sold due to financial circumstances which have pounded commodities in general, and as an industrial asset, according to analysts.
"The precious component is under a little bit of pressure and the industrial component is getting clobbered, along with copper, on all those fears about China," Sterling Smith, an analyst for Country Hedging Inc. in St. Paul, Minnesota, was quoted on Reuters.
An economic slowdown or double-dip recession is seen as a drag on demand for industrial used metals.
London precious metal weekly prices follow:
London Fix Precious Metal Prices

Gold

Silver

Platinum

Palladium

AM

PM

AM

PM

AM

PM

5/28/2010
1214.00
1207.50
18.53
1569.00
1555.00
469.00
471.00
6/4/2010
1203.50
1203.50
17.760
1546.00
1527.00
450.00
440.00
London Weekly Bullion Prices

Up

Down

% Change

Gain/Loss

Silver
X

-4.2%

-$0.77

Gold
X

-0.3%

-$4.00

Platinum
X

-1.8%

-$28.00

Palladium
X

-6.6%

-$31.00
For daily prices, check out the silver spot price page.