Silver Prices Mark First Week of August with Gains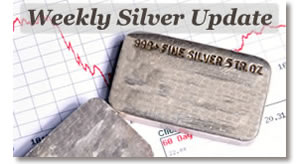 U.S. silver tracked gold during the first week in August, registering a weekly gain of 46.9 cents after falling 3.8 percent in July.
Gold was lifted by a weaker dollar on Friday as poorer-than-expected jobs data cast shadows on the pace of the economic recovery. Investors sought less risky options, which included gold and silver.
Silver for September delivery advanced 15.1 cents, or 0.8 percent, to end Friday at $18.472 an ounce on the Comex in New York. It was the highest closing point of the week, and capped a 2.6 percent weekly gain. Silver's intraday low of $17.975 an ounce was touched on Monday while its intraday high of $18.70 an ounce was hit on Wednesday.
In the weekly quote and originating from outside the US:
"There is again attraction coming back to silver as safe haven buying, as industries, banks and jewelers demand for the white metal is increasing," reports The Economic Times of India. "Demand for silver bars and coins from Indian consumers increased as speculators are expecting silver will outshine gold in terms price increase and investors are seeking to diversify risk."
The current silver to gold ratio is 65.25 to 1, which compares to last Friday's ratio of 65.76.
The London silver Fix was $18.300 an ounce, which was down from the high reached on Wednesday at $18.50 an ounce. Still, the metal gained 64.0 cents, or 3.6 percent, over the $17.660 price from last Friday.
In silver coins news, final bullion July Silver Eagle sales came in at 2,981,000. It was the 7th best month ever for the coins, and the best ever July for them. 2010 now boasts five of the top ten sales months going back to the eagle series start in 1986. The United States Mint sold another 497,000 of the bullion silver coins during the first week of August. Their year to date total is now 21,646,500.
Precious metal weekly prices follow from New York and London follow:
New York Futures Precious Metal Prices

August
Gold

September

Silver

October
Platinum

September
Palladium

7/30/2010
1183.90
18.003
1576.80
500.00
8/6/2010
1205.30
18.472
1570.80
487.60
New York Futures Weekly Changes

Up

Down

% Change

Gain/Loss

Silver
X

2.6%

$0.469

Gold
X

1.8%

$21.40

Platinum
X

-0.4%

-$6.00

Palladium
X

-2.5%

-$12.40
London Fix Precious Metal Prices

Gold

Silver

Platinum

Palladium

AM

PM

AM

PM

AM

PM

7/30/2010
1168.00
1169.00
17.660
1555.00
1555.00
491.00
487.00
8/6/2010
1194.50
1207.75
18.300
1567.00
1571.00
488.00
491.00
London Weekly Bullion Changes

Up

Down

% Change

Gain/Loss

Silver
X

3.6%

$0.640

Gold
X

3.3%

$38.75

Platinum
X

1.0%

$16.00

Palladium
X

0.8%

$4.00